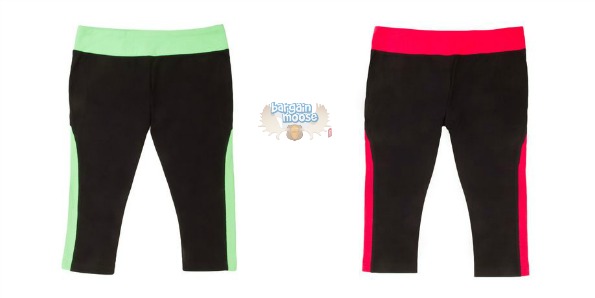 Every now and then Walmart puts some of their clothing lines on clearance with really rock-bottom prices. Today I found Athletic Works promo yoga capris on for only $3, down from $12. These will also get free shipping, as Walmart has everyday free shipping on everything.
These capris are black with either a deep mint or a coral stripe down the side and on the waistband. The coral has sizes XS and XXL in stock and the deep mint has XS, S and XXL in stock.
There is one review of these capris, and it isn't the greatest, saying that they ripped after one wash. Personally, I have bought Athletic Works items before and while they wouldn't last for years, they were durable enough to last through the wash, so I'm not sure if this is a product-specific problem or just that person's problem.
Either way, they cost $3 and even if you wore them once, it sounds like you'd get your money's worth. These would be great for wearing to something like a warrior dash or mud run, where you don't really care if they get ruined, but still want to look good and have materials that do what you need them do while being active.
I actually found these while viewing all of Walmart's current web crashers and also found these G21 short sleeve v-neck tops that are on clearance from $1 to $3 in a variety of colours.
This George smock tube dress is a great addition to your summer or vacation wardrobe at only $5 (was $10). There are six patterns available and I personally like the peacoat or teal. If a solid colour is more your style, it also comes in black with only XS available. This smock has wonderful reviews about how pretty it is, affordable and comfortable. One reviewer even sleeps in it. I love clothes that do double duty ;)
(expiry: unknown)