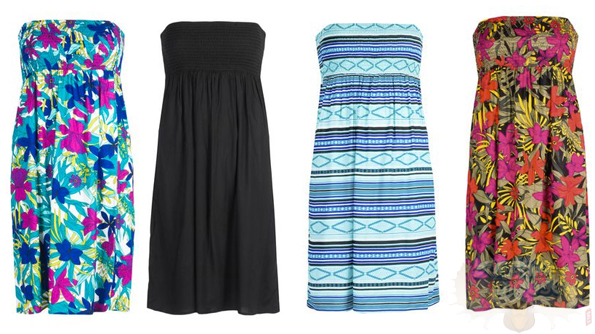 The clearance sale at Walmart Canada continues and the deals seem to keep getting better.  I am always on the hunt for some great clothing pieces and I came across this awesome deal.  You can get their Smock Tube Dresses on clearance right now for just $5 each!
This smock tube dress was priced at $10 which is still a pretty great price but to get it at 50% off for just $5 is a steal.  In total, there are seven different prints to choose from in sizes XS to XXL.  There is also a solid black tube dress which still has all sizes available that you can get for the same price. Personally, I like the printed ones because of the bright colours.
This tube dress is perfect to wear in the summertime at the beach over your bathing suit, or on its own. You could wear it in the spring time or right into fall with a little cardigan over top of it.
It gets a 5/5 star rating and some really great reviews.
I ordered this dress online, so I didn't have a chance to try it on, but it fits perfectly and is now my go-to summer dress. It's perfect by itself or as a beach coverup, it's snug but not too tight around the bust and the skirt part is very flowy and comfortable. You certainly can't beat the price, either! - Selina4
I have bought nearly 10 of these dresses as I love them so much. They are such a great price I decided to stock up for next year as well. I am an XL and what I love about these dresses as they fit true to size and make me look very thin. Even my boyfriend tells me how good and thin I look in them. Absolutely LOVE them! - Beachgurl
My favourite has to be the last review because any dress that makes you look thinner is the perfect dress in my mind!
It is not very often that you find summer clothing for this low price in the winter and especially pieces that still have every single size available.  This is the perfect time of year to grab some fun dress for next summer while they are priced so low.
Every single one of these dresses will get free shipping which is a nice little bonus.
(Expiry: Unknown)