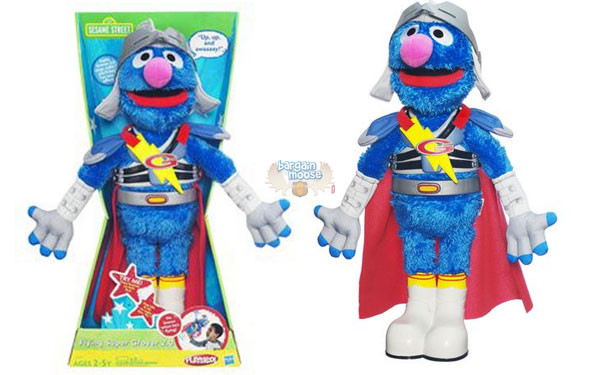 Swoooooosh! Sesame Street Flying Super Grover 2.0 is on clearance for just $5 at Walmart! It was originally priced at $15, which puts its reduced price at a 67% discount.
UPDATE on the 31st JULY - Out of stock!
Even though the first episode of Sesame Street aired as long ago as 1969, this show has turned into a world-wide sensation with millions of kids around the world still playing with toys inspired by the show. Designed to be picked up and flown around, the cool part about this version of Grover is that he raises his arms depending on the direction he's flying in. See him in action at Time To Play's review on YouTube.
On top of a number of catch phrases and Grover letting kids know the direction he's going, Grover can also sing a song, for which lyrics are included in the box. Plus, it already comes with the two AA batteries needed, so you won't have to worry about those. Keep in mind that although he looks plushie on the picture, Grover 2.0 is actually a hard toy but don't worry as according to the many reviews, he can withstand just about any emergency crash landing (i.e. drops and throws at the mercy of little hands).
Although there are no reviews of this toys on Walmart's site, there are, however, 80 reviews on Amazon with a total consensus of 4½ star out of 5 with positive reviews like the following:
My 3 year old and 1 year both LOVE Sesame Street, so this toy was a HUGE hit! Grover stands up by himself and talks not only when you push his buttons, but he makes a fun flying sound when you raise his arm above his head or swoop him around like he's flying.
Speaking of which, Grover 2.0 is actually as high as $27.90 on Amazon, which definitely makes this deal even sweeter, especially when you think about how expensive toys are getting nowadays. My little one is still too young to hold anything properly but even though she's a girl, I'm definitely considering taking advantage of this deal while I still can as I'm sure she will love all the sound effects when she is just a little bit older!
Even though it's only $5, you also won't have to worry about any pesky shipping fees if you get this toy on its own as Walmart always offers free shipping with no minimum spend!
(Expiry: Unknown)