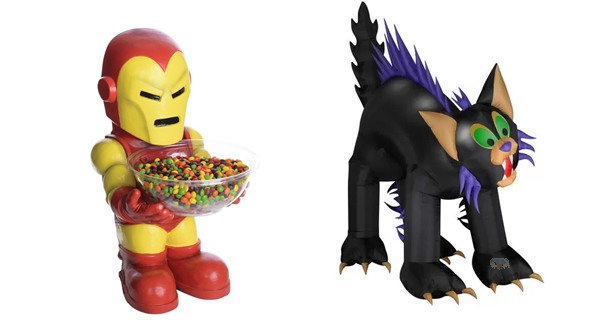 We love hearing about clearance sales! Today, WalMart has some of their Halloween products on clearance, which can help you all save 50% on some of these spooky products! Some of the items that you can save 50% on include this Animated Airblown Inflatable Black Cat On Pumpkin ($29.50 - was $59), a 24-Piece Light Up Tombstone Set ($9.50 - was $19), Airblown Inflatable Rainbow Wings ($5, was $10), and even a Colossal Carving Kit ($3, was $6). You'll also get free shipping with your order! You can check out more clearance items by clicking on the link below.
There are also some other great items that you can save 50% on, like this adorable Iron Man Candy Holder ($14.50 - was $29), a Giant Airblown Inflatable Pumpkin Reaper ($39.50 - was $79), an Airblown Inflatable Witch With Cauldron ($17 - was $34), and my personal favourite, this Animated Airblown Inflatable Cat ($39.50 - was $79).
If you've been procrastinating and still haven't purchased any Halloween decorations or items, then this clearance sale will certainly be appealing to you. Even if you don't usually get Halloween decorations, you should at least consider getting a Colossal Carving Kit - after all, it's incredibly fun to carve a pumpkin!
I think it's fun to carve pumpkins, especially when you can print off a trace sheet online to help you make a wonderful Jack-O-Lantern! My challenge this year will be to carve Hulk Hogan's Fu Manchu moustache on to a pumpkin - wish me luck!
These are some great prices for these items! For example, the Iron Man Candy Holder that's currently selling for $14.50 at WalMart is $32.50 at Entertainment Earth! I've included a brief review of the Airblown Inflatable Rainbow Wings from a satisfied WalMart customer below:
Bought this for my niece and she loves it!! All you need is a dress(in my niece's case, a second hand prom dress) and add those wings - VOILA! A beautiful fairy! 
(Expiry: Unknown)