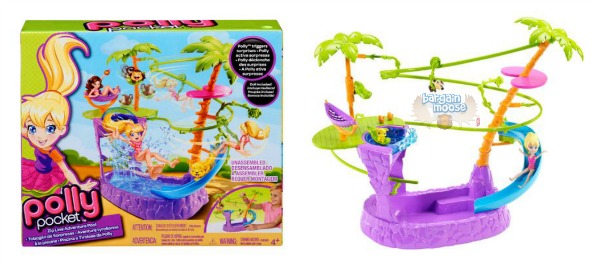 If you have a little girls or a little girl's birthday party to go to this year, Walmart Canada has a spectacular deal for you to take advantage of. They have their Polly Pocket Zip N Splash Playset on sale for just $10 when the regular price is $22.97.
Polly Pocket was around when I was a little girl and it is crazy that it is still so popular.  I wish I would have kept all of mine to give to my niece! When a brand or type of toys has been around for that many years and has that kind of staying power with kids, it is a safe bet to buy.
This set is for ages 4 years old and up (because of the smaller accessories included) and it is a great way to encourage a girl's creativity. It can be taken apart for easy storage and would make a great birthday or Christmas gift for a little girl.
This Polly Pocket Zip N Splash play set gets an overall customer rating of 4.3 stars out of 5 which is great! There are a few different customer reviews of this deal right now.
I love the way it setup, Polly Pockets are always a hit, my niece loved this gift. - C. Williams
Don't let the name of this particular set fool you because you do not need to add water if you don't want to.  I do think it would be a lot of fun for kids though to bring into the bath tub with them and have Polly Pocket zip line into the tub! It comes with all of the pieces you will need but remember that you can always add more with other sets.
You can actually buy other Polly Pocket shops and structures and attach them making this as big or as little as you would like.  That is the great thing about Polly Pocket!  You could also add the Polly Pocket quick change fashion stage that was $29.94 and is now on clearance for just $20.  The possibilities are endless with what you can add.
At the low price of just $10, I suspect it will be selling out fairly fast in the clearance section online.
As for the cost of shipping for this kid's toy, it is absolutely free!
(Expiry: Limited time only)