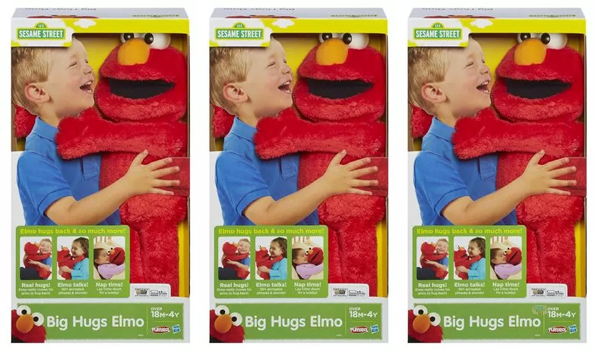 Good morning, Bargainmoosers! Today's deal at WalMart is for the Playskool Sesame Street Big Hugs Elmo, and now that Christmas isn't too far away, it just might be the perfect opportunity to pick up this popular item. After all, you'll be saving $20 off the retail price! It normally costs $59.94, but you can now purchase this Big Hugs Elmo for $39.94! You'll also get free shipping with your order, so you won't have to go anywhere to pick this item up - just pay for it online, and you'll eventually have this Big Hugs Elmo arrive at your home!
The Playskool Sesame Street Big Hugs Elmo does exactly what it implies - it hugs, and it sings. I think this is one adorable product that would put a smile on most kids' faces. This would be a wonderful gift for Sesame Street fans! Plus, Elmo is quite the iconic character, and you just can't go wrong with this as a gift.
Remember the madness associated with the Tickle Me Elmo product back in 1996, 1997? This was in such high demand that shoppers were literally fighting each other for it in retail stores - at least that's what the news reports said at the time. That's how popular Elmo is, and that particular item was in such high demand during that holiday season that everybody and their mother wanted one!
If you wanted to buy this Playskool Sesame Street Big Hugs Elmo from Best Buy, it would cost you $69.95, and it's $59.99 at Toys R Us. I've included a snippet of a review of this Big Hugs Elmo from a satisfied Amazon customer below:
Elmo was bought for my granddaughter's 2nd Christmas. She is a big Elmo fan and this toy is the same size as she is! She loves it and is sure to have many months/years of enjoyment with Elmo!
Happy hunting, my fellow deal hunters!
(Expiry: Unknown)