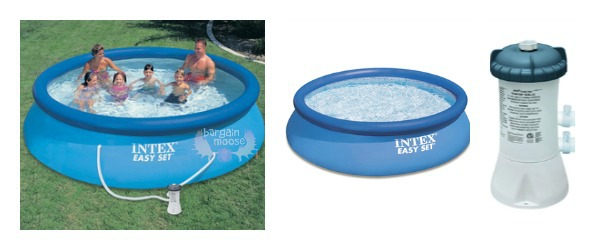 Walmart Canada is having a huge online blowout, and one of the great deals I found was on this Intex 12' x 30" easy set pool set for only $78, regularly $98.
Touted as being one of the easiest pools to assemble on the market right now, this pool will keep you cool and refreshed all summer long. If you can't afford an in-ground or even an above-ground, this pool is a close third. My husband bought something like this not too long ago, and the kids and us all sat in it on the hottest days. You obviously couldn't swim laps in it, but you could keep cool sitting in it, and the kids could do a few strokes across the pool.
All you need to do is inflate the top ring and fill with water. My husband would boil hot water and add to the water from the hose, so it was at a little more of a comfortable level immediately. You could also leave it in the sun and it will heat up quickly since it isn't a huge amount of water.
This pool also includes a filter pump, so your water stays clean. There is a drain plug that can be attached to a garden hose so you can drain the water farther away from the pool.
This item is eligible for free shipping.
(Expiry: Unknown)