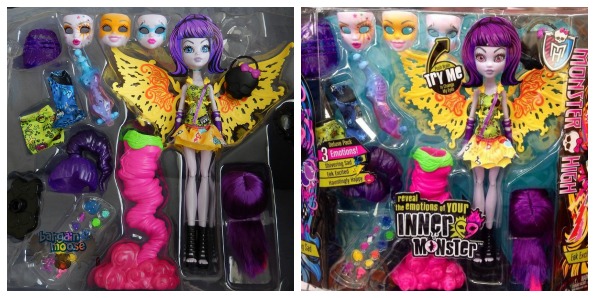 I am a bit obsessed with Monster High dolls - I will admit it. I constantly monitor their sales on Walmart! This Monster High Inner Monster Deluxe Pack - Shivering Sad, Eek Excited, Hauntingly Happy is on sale from $34.97 down to just $17 with free shipping.
Okay, this pack is the ultimate cool Monster High pack for real fans of monsters. The doll comes with three different faceplates plus her usual face. The faceplates fit over her face to give her different – really awesome - designs and expressions. Press down on her brain, and her eyes change as well. I really like the evil looking eyes. Her body comes with two different torsos. One is the 'normal' monster high torso and the other is the one where you can stick in different monster organs and then snap the plastic cover shut.
She also comes with a bunch of accessories including two different outfits and different hairpieces. Her journal has blank pages so you can make your own monster story. Overall, she is one cool doll! You can even mix and match her pieces with other Inner Monster dolls. I have one from the Inner Monster collection - and I just love her face plate and wings. It would be fun to interchange doll parts, clothing, hair, and more.
I tried price comparing this set, but it is sold out everywhere else. I did find it from a secondary seller on Amazon for $99.95 plus shipping (ouch). A regular Inner Monster doll pack retails for $29.99 on Sears Canada (not the deluxe), and the best deals on eBay.ca start at $34 for the pack plus shipping.
I found some reviews online. Reviewers tended to be very impressed with the deluxe pack. The many accessories for the doll was their favourite part. Some reviewers said that this doll is best for those who are not planning to collect all the dolls. The Inner Monster deluxe pack becomes three dolls in one with the many different accessories you can use to customize her. Overall, the doll plus accessories is a great buy for only $17.
If you are in the market for other Monster High dolls, check out the MONSTER HIGH - GHOUL SPIRIT DOLL for only $14.97. Frankie and Spectra are still available. Monster High Creepateria Cleo de Nile Dollis also on sale for $14.97.
(Expiry: Unknown)