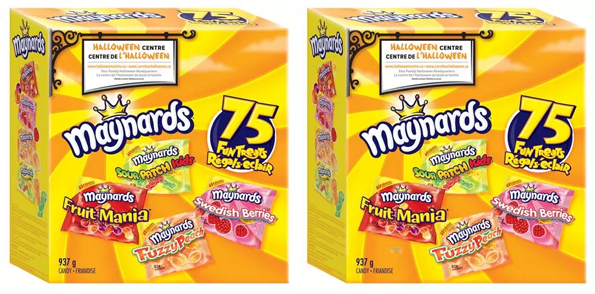 The best part about November, in my opinion, is the Halloween candy fallout. Many great discounts can be had during early November, and this deal is definitely one of them! Today at WalMart, you can now purchase a Maynards Variety Pack of 75 Fun Treats for only $6! This used to cost $11.99, so this is a nice deal - especially if you love Maynards gummies! Best of all, you'll also get free shipping when you order this box of Maynards treats.
This Maynards Variety Pack of 75 Fun Treats is filled with delicious candy! I have a particular fondness for gummies (I like them even more than chocolate), so it's going to be tough to stop myself from ordering 5 boxes of these Maynards Variety Packs! Each box comes with a wide variety of tasty treats, including Sour Patch Kids, Swedish Berries, Fruit Mania, and Fuzzy Peach. That's a lot of gummies!
If you don't really have a sweet tooth, but love giving out candy on Halloween, or if you want to surprise a family member, a friend, or your significant other with some tasty Maynards treats during the holiday season, then you should check out this deal. This Maynards Variety Pack of 75 Fun Treats is currently on clearance, so it may not be in-stock at WalMart for very long!
Just to show you how much of a deal you're getting, if you were to purchase this Maynards Variety Pack with 26 Treats at WalMart, it would cost you $5. Today's deal includes 75 treats in total (more than double the amount), and it's only $6! I've included a brief review of Maynard Fuzzy Peach treats from a satisfied Well.com customer:
A classic treat that consistently meets my tastebuds' standards.
Happy hunting, Bargainmoosers! I hope you all enjoy the rest of your day!
(Expiry: Unknown)