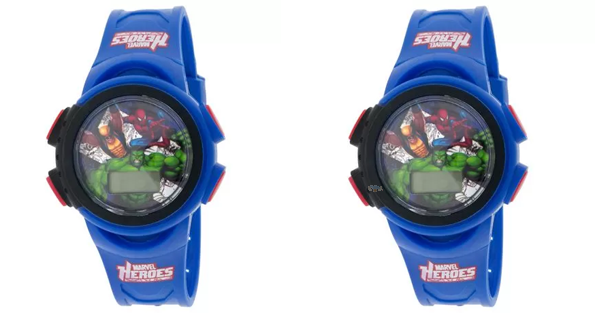 I hope you're all enjoying your Thursday so far, my fellow deal hunters! I found a pretty great deal on WalMart's website - it's for a Marvel Super Heroes LCD Watch (Boys), and while it normally retails for $12, you can now buy this cute watch for only $5! What makes this deal so great is the fact that you'll also get free shipping with your order! Oh yeah!
Marvel characters have always been popular, but they've been especially well known lately, now that so many blockbuster films with these familiar characters have been released (and are about to be released). Movies like The Avengers, Iron Man, X-Men, and The Amazing Spider-Man 2 have been lighting up the box office, and you can see their toys everywhere you go!
This Marvel Super Heroes LCD Watch (Boys) has several popular Marvel characters on it, including Spider-Man, Wolverine, and The Incredible Hulk (side note: I was an extra for The Incredible Hulk movie that starred Edward Norton. Now that was fun).
This would be a fantastic stocking stuffer! At $5, the price is right, and it would bring a smile to any child's face. It looks sleek, and it has familiar characters on it! I still look back on the days that I would wear my WCW Lex Luger watch to school with fond memories (yes, the pro wrestler).
If you were to buy a similar Captain America watch from Toys R Us, it would cost you $11.99 plus shipping. I've included a snippet of a review of this watch from a satisfied WalMart customer below:
Found this one online and it was shipped surprisingly quick and arrived on time for Christmas! It is exactly what he wanted!
This would be a great stocking stuffer! Happy hunting, my fellow Bargainmoosers!
(Expiry: Unknown)