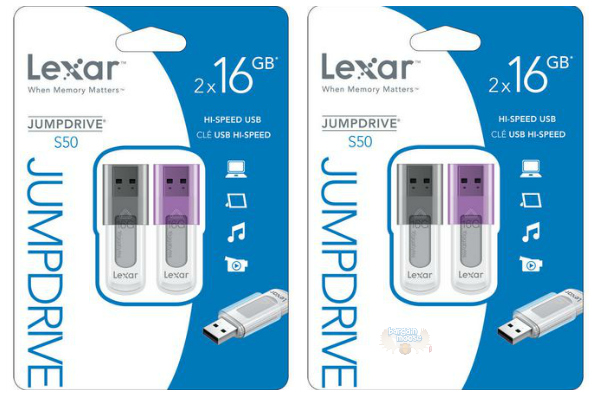 Walmart Canada is selling a two-pack of Lexar S50 16GB Jump Drives for just $10! That works out to only $5 per Jump Drive.
Walmart no longer has free shipping with no minimum to your home, but you can still get this shipped for free (no minimum) to your local Canada post outlet. This is by far your best option for shipping.
The same two-pack of Lexar S50 16GB flash drives currently costs $40.44 at Amazon Canada. Individual units cost $16.44 @ Amazon Canada, $14.94 @ Staples Canada, and $8.99 @ Best Buy Canada (where they are currently on sale). I also found a cached page for Walmart's previous price, which was $24.99.
Whether you would buy these separately or as a two-pack, Walmart Canada has the best price by far! The next closest price is still nearly double.
The reviews for this two-pack of Lexar flash drives are great. 70 people have reviewed the pack on Walmart Canada for a 4.6/5 score. One reviewer said:
Works well and have found no issue to date. Transferring of data was quick. Got them on anniversary sale. They were great value for my dollar. I agree with other comments over the slider cover. Could have been made to slide smoother but not a big feature issue...
These keys normally retail around the $15 price range for any brand name that you would recognize. Sometimes, on sale, they come down to around $10 each. To purchase two for $10 is pretty much unheard of.
These Jump Drives come with a two-year warranty. You receive one purple and one black covered jump drive in each pack. These little drives are fantastic for transporting photos, videos, and music. As a student, I found these imperative to saving and storing my homework so I could work on it both at home and at school. There is nothing like going to the library to work on your paper and then not having the in progress paper with you.
I assume these will sell out quickly, so purchase yours ASAP. These are available to ship to your local Canada Post so there is no reason to pay shipping fees.
(Expiry: Unknown)