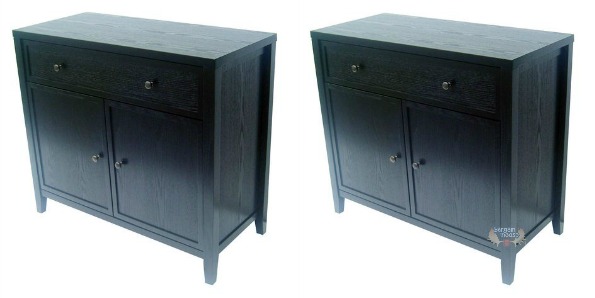 With spring comes spring cleaning and with that it could also mean organizing all your crap. I just cleaned up two of my boy's rooms and realized they have way too much stuff and nowhere to put it! I could totally use something like this HomeTrends storage cabinet at Walmart. I could use a few of them I think! It was regularly $158 and now $75 and free shipping.
With a two-door cupboard and an easy-glide drawer on top, this cabinet could be placed anywhere in your home. It would be great in a kitchen as extra storage for all your kitchen tools and small appliances. I find a lot of kitchens don't always have the necessary drawers that people might need. It could also be placed in a front hallway to place keys, hats, mitts, bills, etc. In Kristy's article on curbing kid clutter, she talked about creating a drop spot at the front door and this would be perfect!
You could also put this in a bedroom or a closet for extra storage in there. I know my walk-in closet is a disaster and I'd love to use this for jewellery and accessories like scarves and purses. I could also use one in my youngest son's room for all of his dress-up costumes, with the hats and face masks going in the top drawer.
If you didn't like the look of black ash finish, you could always paint it with chalk paint or another stain to give it the look you'd like.
There are contrasting reviews of this piece on Walmart's site, with it having each a 3-star, 4-star and 5-star rating. The best review said:
Bought this a month ago. Exactly as shown. Put it together by myself in about an hour. All parts were sorted, prepackaged and/or labeled. Cabinet is sturdy and attractive and prefect for my table linens. Love the sliding drawer. Have had nothing but compliments.
The complaints that the other reviewers had were that it didn't look perfect and that it wasn't sturdy enough. I guess it is a see for yourself type of deal. It could also be how the purchasers put it together. Overall, all reviewers liked the look of the piece.
(Expiry: Unknown)