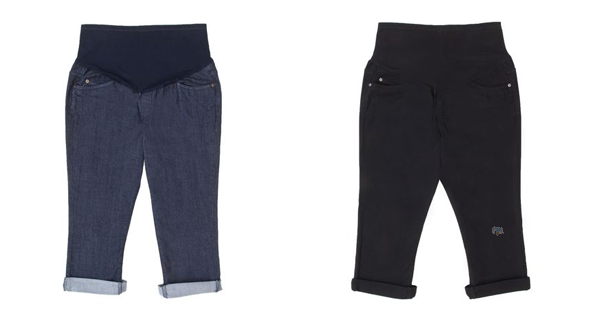 If you're looking for some affordable maternity pants, whether it's for you or if it's a gift for someone you care about, then you should definitely check out today's deal at WalMart. At this time, George Denim Maternity Capri Pants are on clearance! They normally sell for $18 each, but you can now buy a pair of these denim maternity Capri pants for just $5! What makes this deal so enticing is the fact that you'll also be able to get free shipping - even if you just buy 1 pair!
Maternity pants can be pricey, so this is a pretty sweet deal. George Denim Maternity Capri Pants also have an elastic waist band for added comfort. You can check out all the colours, sizes, and extra details about these maternity Capri pants by clicking on the link above.
Since there are several colours available (black, French blue, and stone), it may be tough to choose just one pair! Plus, when you're paying only $5 for a pair of maternity pants, it makes your decision to splurge and buy several pairs that much easier! If you know of anyone that would appreciate some comfortable maternity pants, then you should consider taking advantage of this deal - especially since the holiday season is just on the horizon!
If you wanted to purchase some Wonderfit Maternity Jeans from George, it would cost you $32.51. That's just an example of how pricey maternity clothes can be.
These George Denim Maternity Capri Pants won't be around for long, since they're currently on clearance (and we all know how long these clearance deals for apparel last at WalMart). At $5 per pair plus free shipping, you really can't go wrong with this deal. I hope you all enjoy your day today, my fellow Bargainmoosers!
(Expiry: Unknown)