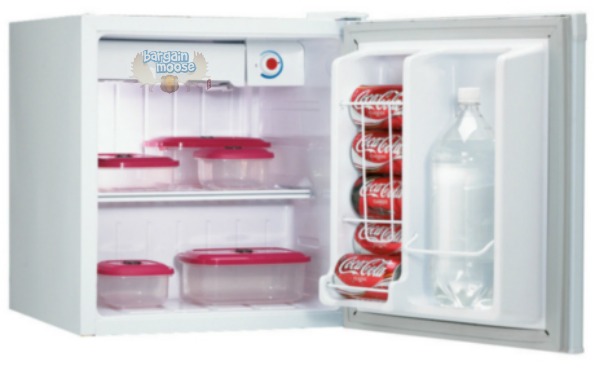 Is your man cave missing something very important? What about your shed, garage or back deck? If you are tired of getting up from your lounge chair and going to the fridge for beer, you might just need a compact fridge. Luckily for you, Walmart has one on sale for only $88, was $118.
This fridge is 1.7 cu. ft. and even has a little freezer inside for your ice and frozen foods.  It is also equipped with a CanStor beverage dispenser and a 2L bottle storage, so this baby really was meant for drinks! Of course, you can use it for food too, and it would be perfect for a dorm room or under your desk at the office. I hated sharing a fridge with everyone else at my office as seriously, people steal your food. I found it crazy that someone would take my homemade Pad Thai, but they did and I would have to go without that day. Get rid of that problem by having your own under-desk fridge. And considering it is Energy Star compliant, no one will complain about higher hydro bills.
If you'd like something larger, I did see that there was also another fridge on rollback. The 4.3 cu. ft Danby is now only $148.98, down from $198.
Of course, it will also ship for free so you'll save there as well.
(Expiry: Unknown)