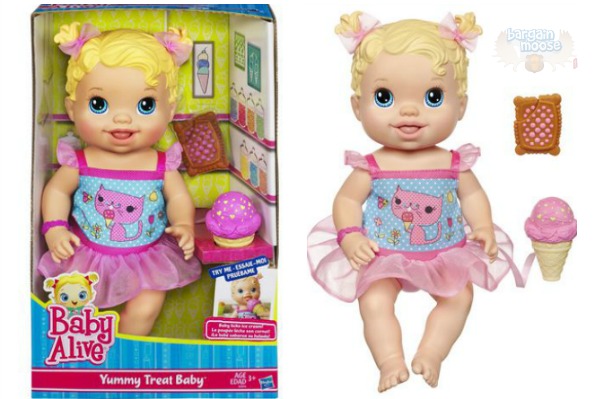 Within the last month, I have had to take my kids to four birthday parties and we have another one next weekend.  Buying gifts for kids birthday parties can really add up and get expensive.  For this reason, I am constantly looking for good deals on kids clothing, toys and games.  Walmart Canada is one of the places I usually look because the roll back their prices for some great deals. Right now, you can get a Baby Alive doll for just $10 when the regular prices was $26.94.
Baby Alive has been around now for quite some time because they are so popular with the little girls.  This Baby Alive is actually called the Baby Alive Yummy Treat Doll and is recommended for ages 3 years old or older.  This particular Baby Alive doll really licks her "ice cream" and "cookie" treats when your child holds them to her mouth, and as a bonus, there's no cleanup needed afterward.  It has blonde hair and little pig tails and will make any little girl feel like a mommy being able to feed her.
Since it is regularly priced at $26.94 and is on clearance right now for just $10, it will look like a great gift for a little girl and only you will know you got such a great deal on it.  I know my niece would love this baby Alive doll for her birthday next month.
They actually have the exact same Baby Alive Yummy Treat doll with brunette hairon sale as well but for some reason it is priced at $15.  Now that is still a great deal but it has all the same accessories and even the same dress on but it is $5 more than the blonde one.  I can't imagine most kids caring whether the dolls hair is blonde or brunette so I say go for the blonde one and save an additional $5 on your total.
You will not have to pay a cent for the cost of shipping because this item will get free shipping.  That will save you even more money!
Thank you to Mooser FeliciaC for letting us know about this deal and posting it on the Hot Deals forum.
(Expiry: Limited Time Only)