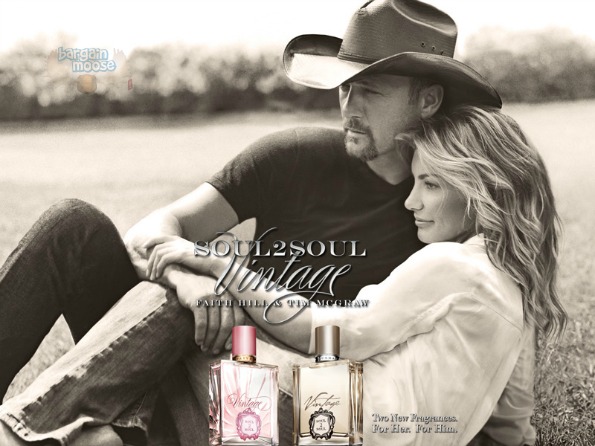 Are you looking for a little something special for your man? Perhaps you are a man who likes to smell yummy but does not like to spend a lot of money on cologne. Right now, Amazon has discounted two colognes for men. SOUL2SOUL Vintage Tim McGraw was $20.97 and is now $10.50. You can also score a bottle of David Beckham the Essence Spray that was $24.97, is now $12.50. All orders come with free shipping.
Both of these bottles hold 30ml of cologne. I prefer smaller bottles of cologne and other perfumes, as I like to change scents often. If you purchase a large 100 ml bottle, then you are stuck with the same sent for years.
SOUL2SOUL Vintage Tim McGraw
Designed to celebrate the American Love Story epitomized by Faith Hill and Tim McGraw, this fragrance features top notes of mandarin, ginger root, and lavender. Mid notes include cardamom, orange flower, and cinnamon with dry notes of cedar leaf, cashmeran, and tonka bean. I have never had the pleasure of smelling this cologne, but I love lavender, cinnamon, and cedar.
Most reviews seem to like the cologne but there are a few complaints that it does not last long enough. This reviewer said:
I love All of Tim McGraw fragrances. This one is just as great as all of the others. Each have a different smell like no other fragrance for men.
David Beckham The Essence
I am sure we all know David Beckham, and have appreciated his... talent. This perfume captures the essence of Beckham with top notes of grapefruit, violet leaves, and lavender. Mid notes include pineapple, apple, and cardamom. The base notes of this cologne are similar to Tim McGraw's, with tonka bean, cashmeran, and patchouli. One reviewer on Fragrantica said:
Definitely one of the nicer citruses. The violet gives a lovely clean edge to the smell. The Essence is great value. An excellent and refreshing clean citrus.
I could not find these bottles of cologne (30 ml) anywhere else in Canada. You could order in from the USA, but shipping and duties becomes an issue. For the price, I am pleased with this deal. These colognes are also on clearance at my local store... but all three of the closest locations to be are already out of stock.
Limited quantities available online.
(Expiry: unknown)