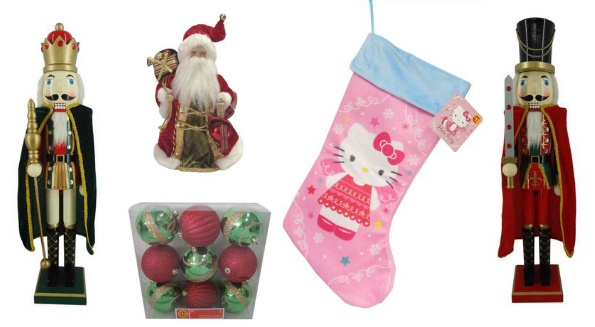 Walmart Canada has a great sale on Christmas Decorations BEFORE Christmas. Not much is better than 50% off great indoor decorations such as stockings, ornaments, Nutcrackers, Santas, and more.
Christmas is coming and a fan favourite Christmas story has to be The Nutcracker. If your home could use a little cheer this holiday season, pick up a 2 foot = 24 inch Christmas Wooden Nutcracker. This tall Nutcracker will make the perfect Christmas decoration for your home. Originally $28, the Nutcracker is now on sale for $14. You can choose from the Nutcracker Green with Red Cape and the Nutcracker Red with Green Cape. Pick up both as they are quite different.
The one Nutcracker has a typical black top hat with chains across it. He also has a sword in his hand. I think of this as the solider Nutcracker - guardian of the nuts (people ;) ). The second Nutcracker wears a crown upon his head and has a staff of power in his hand instead of a sword. This is the king Nutcracker, when he has vanquished his enemies and set high upon a throne.
If you are more of a Santa person, then pick up a 12 Inch Fiber Optic Santa in red, black, or white. Originally $22 each, they are now on sale for $11. These are for indoor use only because of the fiber optics. The LED lights continuously change colour on these fun little Santas.
I prefer the 12" Santa Cone Green/Red honestly. I think he looks more like Santa and less like a baby with a white beard. Originally $14, this Santa with a bag of goodies on his shoulder is now just $7.
If your little girl needs a new stocking, then thisHello Kitty Sublimated Printed Stockingmight be just the thing. Originally $13, the stocking is now on sale for $6.50. Two other patterns have already sold out, thus I recommend purchasing this one ASAP. There are only a few left online.
I also wanted to mention the 9 Pc Shatterproof Ornamentsfrom Walmart. If these tree ornaments drop, they won't shatter into a million pieces like normal ornaments. Originally $17, they are now on sale for $8.50. That is less than $1 per piece.
Check out these and other Christmas deals at Walmart Canada. Receive free shipping on any order to your local Canada Post location.
(Expiry: Unknown)