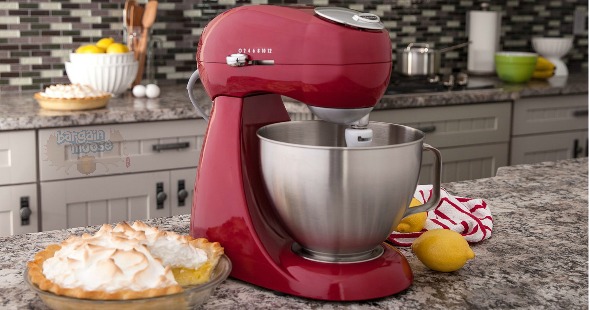 Baking can be fun and rewarding. If you happen to love baking, then you may be in the market for a new stand mixer. Walmart.ca currently has the Hamilton Beach All Metal Stand Mixer on sale for $100 off the regular price. That leaves you paying just $129 instead of the regular price of $229.97. You'll get free shipping too.
This Hamilton Beach All Metal Stand Mixer is designed to tackle any and all household baking jobs that you can possibly imagine. When you save $100 on this product, it brings you down to the low price of just $129 which can't be beat anywhere else. Why, Amazon.ca is still selling this product for a whopping $300. Not to mention that competitor's products of the same quality are almost double the price. For example, the KitchenAid Artisan sells at over $500 and the motor only has 350 watts. This Hamilton Beach Stand Mixer has a motor with 400 watts and is hundreds of dollars less. The Hamilton Beach mixer has all of the same features and attachments too. It even operates quieter than most other mixers, including the KitchenAid.
The Hamilton Beach All Metal Stand Mixer boasts two-way rotating and high powered mixing action. This electric stand mixer has 12 speed settings which allow you to whip, mix or blend your ingredients into perfection. Since this mixer is 4.5 quarts in size, it is perfect for your day-to-day baking needs. The stainless steel mixing hook will lock into place for safety too. If you are running short on recipe ideas, just take a glance at the included sample recipe booklet.
Walmart Canada's website has 7 reviews on this product, which leaves it with a 5 star rating. This Hamilton Beach All Metal Stand Mixers has review titles like "Exceptional Value", and "Lots of Power To Spare". Just take a look at one of the customer reviews from Walmart.ca:
I purchased one of these about 5 years ago and I will have to admit that it is the best kitchen appliance that I have ever purchased. It has all the power you will ever need and it is not overly noisy when I'm using it. I would have to say that it is right on par with the KitchenAid mixer except you will save a couple hundred dollars to buy all the baking supplies for the next little while.
You won't even have to complain that Walmart.ca doesn't offer free shipping with no minimum purchase anymore. Their new minimum spend threshold is $50, and this item surpasses that. You can get free shipping right to your door if you purchase this Hamilton Beach All Metal Stand Mixer.
(Expiry: Unknown)