WagJag Canada: Pandora-Style Beads 63% Off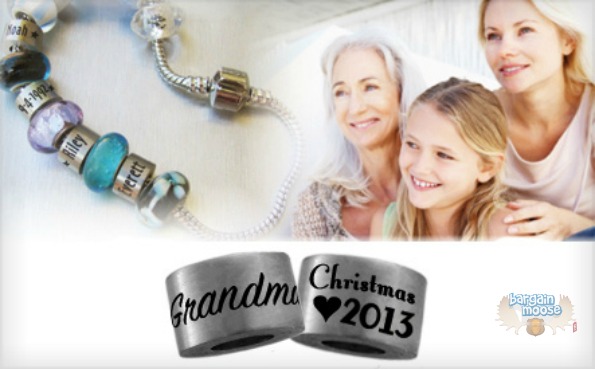 With Christmas coming, many of us may be looking for special gift ideas. All of the women in my family have Pandora bracelets, but I have yet to find somewhere online that sells them for a great deal. This WagJag is an alternative to buying the actual Pandora charms, and its a great deal, plus personalized!
I never know what to get my mom for Christmas or her birthday, which is also right before Christmas. I always try to aim for something special that she will actually wear. This idea is right up my alley.
These charms are modelled after Pandora charms and fit on Pandora, Chamilia, Biagi and the common chain-style bracelets. They are made from stainless steel. What they have that I don't believe Pandora has, is the ability to engrave your charm. You choose from six fonts to engrave whatever it is you want, in my case it would be Nana (which is a hard name to find, but Grandma is everywhere!). You can also add a symbol with your choice of nine different symbols.
What you can get:
You can buy unlimited vouchers and they expire on December 18, 2013. This deal also includes shipping.
(Expiry: 18th September 2013)