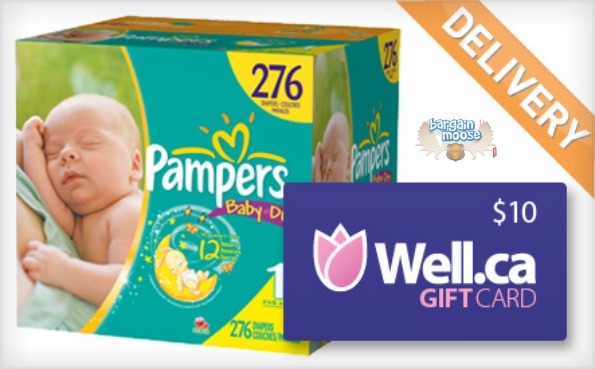 WagJag Canada has a fantastic deal out for the next five days. For $39.99, get the largest box of Pampers diapers and a $10 Well.ca gift card delivered right to your door! The price even includes taxes and shipping. Perfect deal for anyone with kids still in diapers! This deal has a value of $62.49!
There are three different types of Pampers diapers available:
Pampers Swaddlers (available in sizes 1-2; up to 234 per pack). Swaddlers help keep babies dry while the quilted blanket-like softness wraps them in all-around comfort
Pampers Baby Dry (available in sizes 1-6; up to 276 per pack). Baby-Dry diapers expand and contract with your child throughout the night to help sleep go undisturbed
Pampers Cruisers (available in sizes 3-6; up to 186 per pack). Pampers Cruisers lock in wetness while removing excess bulk, so your baby is up for any challenge
You will have to choose the type of diapers you want when you order the WagJag voucher.
Before 30th June, 2012, redeem your vouchers online or by phone. Here's how:
1) Visit Well.ca and add the corresponding Pampers largest box with extra $10 gift card item to your cart (or call 1-866-640-3800 to redeem by phone). Make sure to add the item that also contains a gift card.
2) Enter your voucher number in the Discount Coupon Redemption Code Box in the Well.ca checkout and place your order (or quote your voucher number over the phone).
3) Wait for your diapers to be delivered to your door.
There is a limit of one voucher per household. The diapers can be shipped to any of the 10 provinces, but not territories or remote locations.
The $10 gift card will be delivered with your diapers. Gift card is valid on any product and has no expiry!
Thanks to peesi16 for posting this deal on the hot deals forum!
Expires: 16th January, 2012