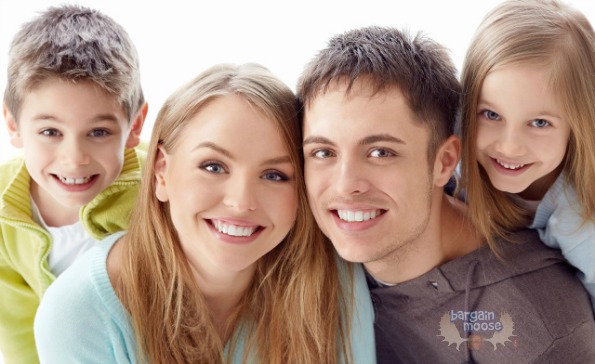 Krista recently blogged about a photo studio deal for Walmart, offered by WagJag. That was a good deal, but maybe you don't trust Walmart as much to do your family photos as say, Sears. WagJag now has a portrait studio offer on for $35, but it has a $185 value.
Family photos are so important. Just think about how you and your family will look back on them and remember that time spent together. While I'm a huge advocate of casual and unposed photographs, I think every family needs to get their posed together family photograph updated each year. My reasoning is very simple too. I am the photographer of the family. I have literally thousands of photos of my kids and hundreds of my husband. How many are of me? About 5. The number of photos of the family and I together are quite low too. So, I like to go to a professional to get these done and let them deal with the kids not looking at the camera, rubbing snot on their brother's hair and the general "I don't want to" attitudes. That's what I'm paying them for. And, I'm paying very little too!
For $35 you will get:
the photo shoot
a single image CD
an enhanced 10x13 wall portrait
six natural colour portrait sheets
You can also get more prints and CDs and you'll get 50% off of those. This is great because as you can see, your free items include one photo. You know there will be a few more you'll want and you don't want to be conned into paying full price for those, so instead you'll get a discount on these too.
There are a number of Sears portrait studios across Canada, so I'm sure this offer will apply to many of our Moosers. You can buy two sessions for yourself (one voucher per session) and three as gifts. You have until the end of August to use your voucher, so this is perfect as Summer is when most people look their best. Save the image for your Christmas card, which is a short five months away!
(Expiry: 28th July 2014)