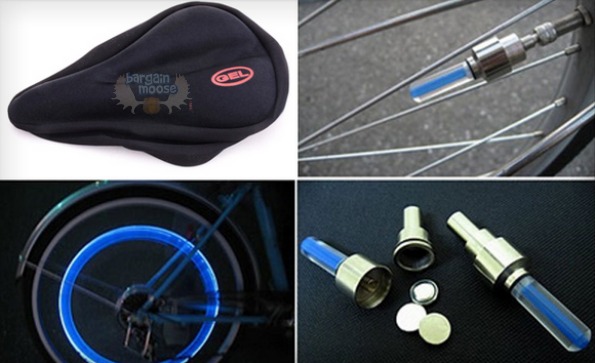 WagJag Canada has a great deal just in time for the perfect bike riding weather of the summer.  Get a gel bike seat cover and four LED bike lights for just $16 when it would regularly cost you $42.
I have actually priced out these LED lights before and man, can they ever be expensive! I couldn't believe that they were only $16 through WagJag and you get a gel seat cover as well.  It even includes all the batteries which, as we all know, could cost up to $16 themselves sometimes!  This is a pretty incredible deal.
The LED lights are perfect for night time riding and staying safe on the roads.  The gel seat helps save your rear from long bumpy rides. The LED lights are easy to install and there are no confusing wires.
Once this deal ends, it will take four to six weeks for delivery, and you are able to order one deal per person, but as many as you would like to give as gifts.
I would love to get this for myself when we go camping. I love going for long rides and being that I am on bumpy pathways instead of a smooth road, the gel seat would be perfect.
The cost of shipping is just $5 total.
(Expiry: 28th may 2014)