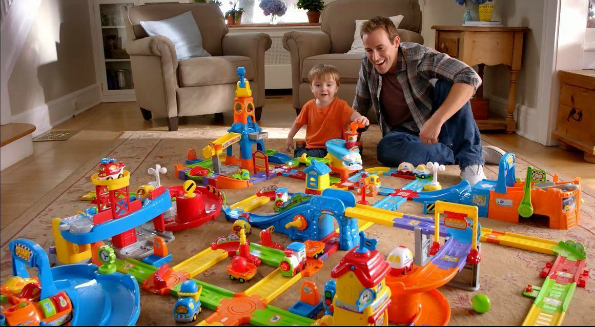 If you are looking for an awesome little play set for your little one, then check out the Vtech Go! Go! Smart Wheels Fire Command Rescue Centre on sale from $34.99 down to $26.24. Use coupon code941612464 for an extra $10 off, thus bringing this play set down to $16.24. Sears Canada currently offers free shipping to over 1300 Sears Stores and Sears Outlet locations.
I like this deal for several reasons. First, it is already 25% off before you even add on the coupon code, which makes the extra discount that much better. Furthermore, this set is far more expensive at any other online retailer: this same set costs $34.94 @ Walmart Canada, $29.98 @ Amazon Canada, and $39.99 @ Toys R Us Canada. For an interactive toy such as this, just over $16 is a great price and this toy would make an excellent Christmas gift.
This Vtech Go! Go! Smart Wheels Fire Command Rescue Centre comes with a fire house, a big fire engine, and a SmartPoint fire truck. The SmartPoint fire truck triggers six SmartPoint locations on the fire house and the big fire engine. When triggered, your child will hear fun phrases, music, and sound effects. The fire truck teaches the letter "F" and the name of the vehicle as well through pretend-play.
Additional Go! Go! Smart Wheels vehicles and sets are sold separately. As you can see above, the Go! Go! Smart Wheels sets connect up together so they are amazing gifts for a child who already has a set. You could also plan to start off your child's collection and then add a new vehicle or set each birthday and Christmas. You could even let grandparents and relatives in on the plan and then they can add pieces as well.
Overall, I think this is a wickedly cool set with many features at a fantastic price. It is only on sale for a few more days so now is the time to buy it and combine it with the above coupon code. Enjoy free shipping to over 1300 locations across Canada.
(Expiry: 28th October 2015)