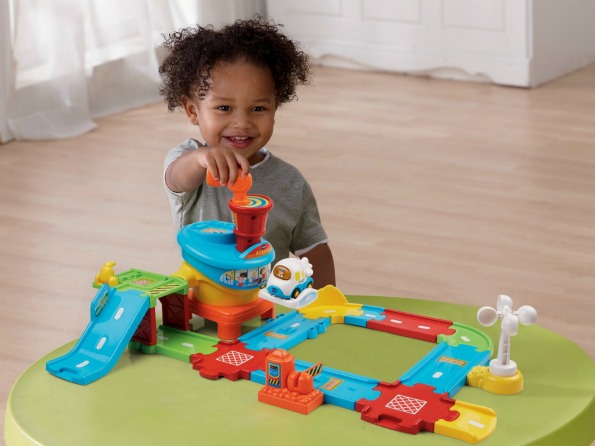 While all eyes are on Walmart right now, Amazon Canada has a bunch of discounts that are pretty hot as well. This VTech Go! Go! Smart Wheels - Airport Playset is on sale from $29.99 down to $12. That is 60% off of Amazon Canada's regular price for this set. Receive free shipping with prime or free shipping on orders of $25.
Walmart is sold out of this toy and Toys R Us Canada has the same toy for $34.99, thus I consider this deal pretty hot. The VTech Go! Go! Smart Wheels line are a bunch of play sets that link up together if you buy more than one. The play set is activated to play different phrases and sounds when your child moves their vehicle along the set.
This playset includes a control tower, antenna, cloud platform, fuel station, lift gate, spinning weather vane, and more. You also receive an airplane to use with the set. This set includes 6 SmartPoint locations that recognize and respond to ALL Go! Go! Smart Wheels, SmartPoint vehicles. The included tracks can be reconfigured or detached to connect to other playsets.
I think it is pretty cool that the VTech Go! Go! Smart Wheels playsets link together. If you purchased the Fire Command Rescue Centre from Sears(was on sale for $16), then this Airport set can link together with it.
These play sets are interactive, and come with plenty of accessories. Each has customizable options (using the tracks). This is appealing to kids as one mother says:
My daughter at 2.5 yrs still loves this set. Often she pulls it out just to build a new track.
If you bought the Fire Station set from Sears Canada, then you absolutely need this set as well. Even if you have not bought one of these sets yet, there is no time like the present.
I also wanted to mention that this VTech Go! Go! Smart Wheels Carry-All Cargo Train is on sale from $14.99 down to $8. The English version is already sold out at Walmart (was the same price) and the set is $14.99 at Toys R Us. The train can interact with any of the play sets.
(Expiry: Unknown)