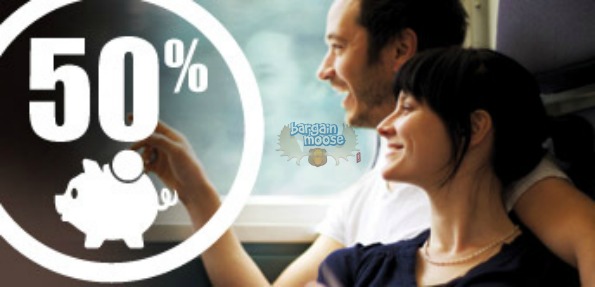 VIA Rail is offering 50% off select adult fares and 10% off select Business Class fares until 17th April, 2012!
In the East, you can travel in the Québec City – Windsor corridor until 29th August, 2012 and get 50% off the adult regular fare in Economy class. If you travel in Business Class you can also save 10% off the best available fare.
A sample fare would be $66 to go from Toronto to Ottawa in Economy class or starting at $126 for Business class.
If you are ready to take a longer trip, travel East or West until 29th August, 2012, and get 50% off the adult high-season regular fare in Sleeper and Sleeper Plus classes.
A long haul trip from Toronto to Vancouver would cost $682 in Sleeper Plus (upper berth) and includes all meals.
Your tickets must be purchased by 17th April, but at least 3 days prior to departure! The number of seats on sale is limited.
Expires: 17th April, 2012