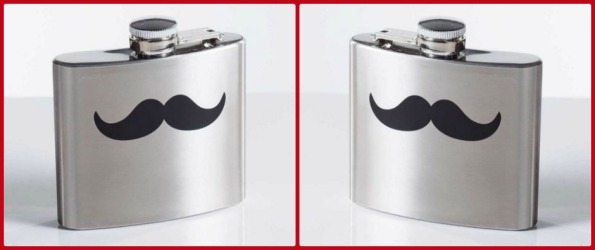 Here's a fabulous Valentine's Day idea for the hubby. You can get this Mustache Flask for just $10.47 on sale from $14.95. Thanks to our exclusive coupon code, you will also get free shipping with no minimum. So go ahead and use the code MOOSEFREESHIP at the check out process, because it expires tonight at midnight! Also, don't forget to enter the Linen Chest Valentine's Day Sweepstakes contest!!
This Mustache Flask is definitely fun and quirky. It is a great way for your hubby to have a few sips at home to relax, or even fill it with Gatorade when he is going out for a jog - though it only holds 5 ounces. This Mustache Flask is fully stainless steel, and has an adorable mustache print image on the front side.
Pair this with your man's favourite whiskey and you have the easiest (and most affordable) Valentine's Day gift ever). Hand wash is recommended of course, so in my house I would end up being the one to wash this flask. Also, to make you feel a little more at ease with this purchase... the lid is impossible to lose. It is attached to the flask!
The free shipping is definitely the icing on the cake here, so make sure you grab this cool item today.
(Expiry: 3rd February 2016 @ 11:59 PM EST)