Stuck for Valentines ideas? Check out the selection @ Yves Rocher, who are offering up to 50% off certain gifts.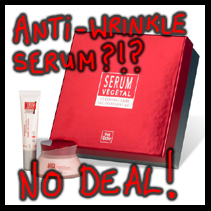 Don't forget to check out the coupons for Yves Rocher Canada too. They range from 10% discount, to $5 off $25 etc. Be sure to choose the coupon that gets you the most discounts on your Valentine's day gifts.
Having a quick look through the selection available, here are my opinions:
Lavender Bubbly Foot Collection – Was $40.50, now $22. This one isn't too bad, it looks like quite a nice little set. Although foot cream doesn't exactly scream "romantic Valentines gift."
Soothing Orange Blossom Gift Collection – Was $59, now $37. This one doesn't look too bad either. Again, it's gift bagged, so might be ok, in addition to a big box of choccies and a bunch of flowers!!
Sérum Végétal Corrective Collection – Was $82, now $40. Sorry man, but if you got me this, you'd get a swift kick to the nether regions. An anti-wrinkle gift? No deal. Although it does come in a gift bag, so that might sweeten the deal!