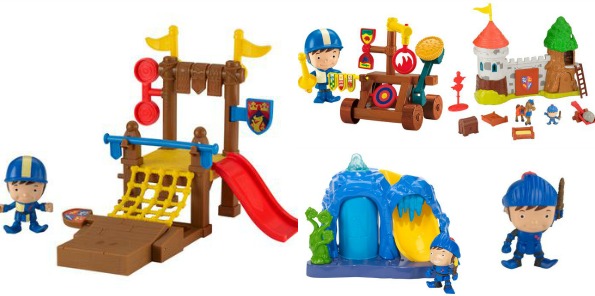 Toys at Walmart are going like a rare steak in front of a Rottweiler: fast! However, I did find a nice selection of Mike the Knight toys still in stock for up to 80% off. With toys starting at just $2, this is a sale you will not want to miss.
Let us talk $2. For a mere toonie, you can purchase this Mike the Knight: Mike, Training Post and Yap Figure Pack. Originally $9.94, this Mike and accessories doll is now only $2. While mentioned before, this Fisher-Price Mike the Knight Plush Figure is still in stock. Originally $9.94, it is also now in stock for $2.
I am going to skip to one of the most expensive items just because it is such a good deal. This Mike The Knight Rolling Training Station is on sale from $29.94 down to $8. Help Mike get into perfect Knight condition with this training station.
While not accessible from the main link, this Mike's Glendragon Castle Playset French is also a Mike the Knight toy. Originally $44.97, it is now on sale for $13. The English version has already sold out, so this is the French version.
There are all sorts of fun Mike toys. This BATH BUDDIES 3 PACK includes Mike, a dragon that squirts water, and a boat that floats. Originally $14.94 for the set, they are now just $4.
Check out the Mike the Knight Buddy Pack Asst for additional Mike the Knight figures. There are two packs to choose from:
Mike and Galahad
Sparkie and Squirt
Each pack was $17.94 and is now just $5, thus I recommend buying both.
For only $7 each, you can pick up a couple of other playsets. This Mike The Knight Training Grounds Playset and this Fisher-Price Mike the Knight Maze Caves playset were originally $24.94 each. Each comes with a unique play set for Mike to enjoy. The large training grounds play set is perfect for expanding Mike's training from the smaller mobile toy. The Maze Caves will help Mike keep a good sense of direction... and have some fun too.
These toys are all incredible prices and I am surprised that these ones are all still in stock. Mike the Knight is very popular with kids these days so pick up a few stocking stuffers or gifts for under the Christmas tree.
(Expiry: Unknown)