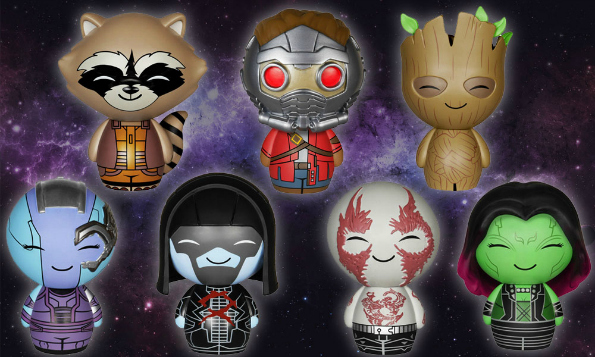 Funko makes some of the coolest collectible figures ever that are perfect to keep or to gift. Amazon Canada is offering up to 72% off Funko figures from Marvel, DC, popular movies, and popular television shows. Toss a bunch of these in your cart and you have instant stockings stuffers and backup gifts for everyone!
There are five items that are 70% off or more. The best discounts are on these famous horror keychains. You can pick up Nightmare Before Christmas - Sally, Horror - Freddy Kruger, and Horror - Ghostface on sale from $11.92 down to $3.28 each! That is 72% off their original price. I am thinking these would make great Christmas stocking stuffers for the horror lover in your family.
There are also some larger Funko figures on sale. The Dorbz: Marvel - Ghost Rider is on sale from $14.57 down to $4.42. I have never seen the movie but I love this little guy - his hair is wicked hot and his expression is truly demented. Then, you can pick up 21 Jump Street - Morton Schmidt on sale from $15.89 down to $4.82. All of these five items are add-ons because the price has gone so low. An 'add-on' means you need to add them to a cart of $25 or more in order (before the add-on) to have these shipped for free.
There are plenty of non-add-on collectible figures as well once we hit the $5 mark. For Guardians of the Galaxy fans, there are several cute little Funko figures to collect. First, you can buy Dorbz: Gotg - Unmasked Star-Lord for $5.09 (was $14.57) or Dorbz: Gotg - Star-Lord for $5.03 (was $14.57).
Personally, the Star Lord is my least favourite character in Guardians of the Galaxy. I much prefer Dorbz: Gotg - Ronan for $5.04 (was $14.57) and Dorbz: Gotg - Grootfor $5.75 (same original price). I believe 'Dorbz' is short for 'adorable' and I have to agree: these figures are so cute it hurts! I didn't think Groot could get any cuter - but he has!
There are other collectible styles as well. The Harley Quinn Figureis part of the Vinyl series: this series is made from interchangeable magnetic vinyl pieces. Originally $14.57, Harley Quinn is now $5.20.
For your super hero fan, you really cannot do better than Dorbz: Batman - Black Suit Batman on sale from $124.57 down to $6.58. The dark knight is always a popular choice. I am dying of cuteness overload here and I am not sure my wallet can handle all the adorable little Funko Dorbz figures I want to buy.
(Expiry: unknown)