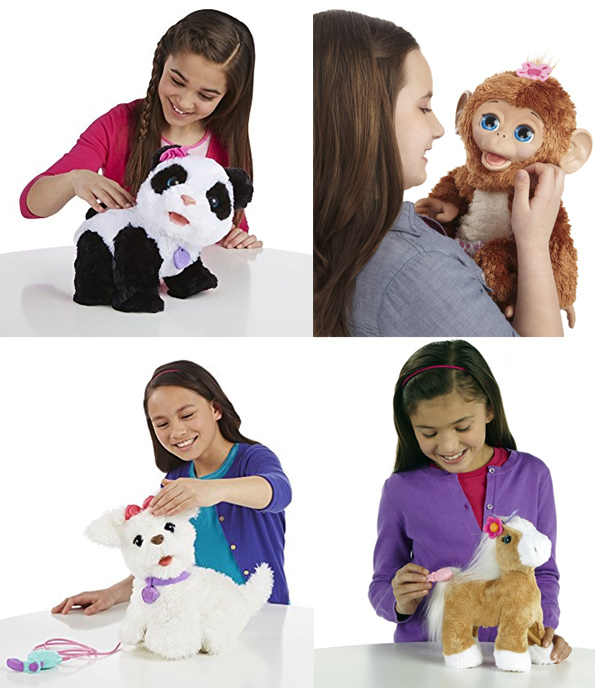 FurReal Friends are an item on many kids' Christmas list. These cute little toys are extremely popular, and wanted by many a young kid!! If they're on YOUR Christmas list to buy this year, then you will want to take a look at these prices on Amazon.ca today. You can save up to 63% on select toys, with items starting at only $18.49!
This is one of the deals in the Black Friday deals week countdown; one of a few deals happening today only. In the FurReal Friends sale, there are only four items to choose from, but the prices are excellent. Please note that these are all shipped from and sold by Amazon – not third party marketplace sellers. Here's a rundown of the four items and their prices elsewhere:
FurReal Friends Get Up & GoGo My Walkin' Pup Pet was $69.99 now only $26.23 (63% discount) – GoGo is only $26.23 with free shipping on Amazon – this is a brilliant deal. I've looked elsewhere, and GoGo is $49 at Sears, $70 at Toys R Us and Walmart! Grab her fast.
Furreal Friends Cuddles My Giggly Monkey Pet was $89.99 now only $39.49 (56% discount) – Cuddles is also $80 at TRU and $100 at Sears!! The Amazon price is simply EXCELLENT today.
FurReal Friends Butterscotch, My Walkin' Pony Pet was $29.99 now only $18.49 (38% discount) – now, as Butterscotch is under the $25 free shipping threshold, you won't get free shipping on this one unless you have Amazon Prime. Butterscotch is $35 at TRU and Walmart – so another super deal from Amazon today.
FurReal Friends Pom Pom My Baby Panda Pet was $59.99 now only $44.49 (26% discount) – there's not a big a discount on Pom Pom, compared to the others above. However, he will be $44.49 with free shipping from Amazon. This is a great deal, because Pom Pom is $60 at TRU and $67 at Walmart!!
(Expires: 16th November 2015)