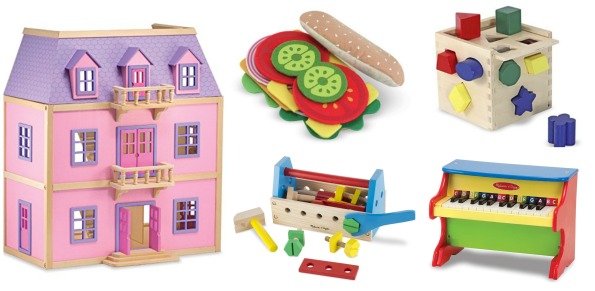 Melissa & Doug toys are on sale for up to 52% off right now, and we all know how popular these quality toys are. If you are thinking Christmas gifts, then now is your time to get that task off your mind. We are almost on the home stretch of pressie shopping opportunities. Either way, these are fabulous toys at fabulous prices right now. Plus if you spend $25 at Amazon.ca you will get totally free shipping.
There are quite a few different Melissa & Doug toys available through Amazon.ca, and right now you can take up to 52% off their original price. I priced compared a few of the toys that stood out to me and the prices look wonderful. I actually had to throw a few different sets in my cart, my son will love these for Christmas.
The first Melissa & Doug item that snuck into my cart was the Felt Food - Sandwich Set which is on sale from $24.99 down to $11.99. You won't find this item priced better anywhere else right now. It is $24.95 @ Chapters, $24.99 @ Well.ca, $19.99 @ Shop.ca. Your child will have a lot of fun making pretend sandwiches for the entire family.
Next on my must-have list is the Melissa & Doug Learn To Play Upright Piano. This colourful piano was originally $89.99 and after your 44% discount you will pay just $49.98. This piano features 25 keys and 2 full octaves. It even comes with an illustrated songbook to help your child learn. Again, you won't find a better price elsewhere. This toy is on sale for $62.99 @ BestBuy.ca, $69.99 @ Sears.ca and $74.37 @ AllStarLearning.ca. Those are also all sale prices!
If you have younger children you might enjoy the Melissa & Doug Shape Sorting Cube which was $17.99 and is now just $9.48. Or even the Melissa & Doug Take Along Tool Kit which was $17.99 and is now just $8.99.
Little girls will love the Melissa & Doug Multi Level Dollhouse if you are willing to spend a bit more money. This doll house was originally a whopping $199.99 but with the 52% discount you will pay just $95.62. This doll house has a total of 19 pieces of different furniture items and such, and looks like it would be a blast for any little girl.
Amazon.ca gives you free shipping on any and all orders over $25. Just watch to make sure that the items are actually shipped and sold my Amazon.ca to get that part of the offer.
Moosers, do your kiddos love Melissa & Doug toys?
(Expiry: Unknown)