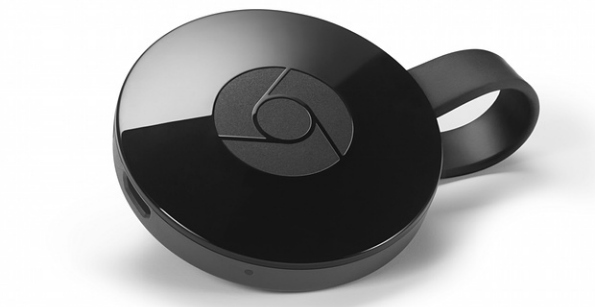 Google released their second edition of the Google Chromecast this year. It is not called 'Google Cromecast 2' or anything smart like that, it is just the Google Chromecast. Receive $20 free Google Play Credit when you purchase a Chromecast. Furthermore, receive $15 off the purchase of two Google Chromecast units and potentially $40 Google Play Credit with two Chromecasts. Your entire order will ship for free.
By the way, you can get the same deal from Staples and a couple other places but Best Buy Canada lets you reserve online and pick-up in store: this is perfect for last minute Christmas gifts. Let me break this deal down for you because it is even a bit better than it seems. Each Google Chromecast costs $45. Whether you buy a second Chromecast or not, you will receive $20 Google Store Credit. The $20 Google Store Credit is PER Chromecast as long as they are not activated by the same Google Store account. That brings me to the best part of this deal:
Purchase two Google Chromecasts and receive $15 off your order AND up to $40 Google Play Credit. From my understanding, you will receive $20 Google Play Credit per account. You merely need to activate them on separate Google Play accounts.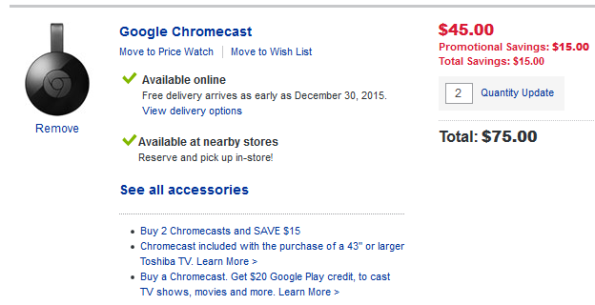 Perhaps you want a Chromecast for you and a Chromecast for your partner. Personally, I want one of the new Google Chromecast units for myself and one as a gift for a friend. I would activate mine on my Google Play Store and he would activate his on his account. We would each receive $20 Google Play Store credit - for a total of $40 credit - and I would save the $15. Together, this deal is pretty good.
Fine print is everything so you must go HERE to redeem the credit and check out this fine print:
Valid for one $20 Google Play credit. Offer expires on January 2, 2016. Credit must be added to Google Payments account by January 31, 2016 and used by January 31, 2017. Limit one per Google Payment account.
This is exactly what I have been saying: only one $20 Google Play credit is allowed per Google Payment account so you will want to activate one Google Chromecast on one account and the other on a second account to receive a total of $40 Google Play Store credit.
I am pretty stoked about this. I use my older version of the Google Chromecast for watching YouTube mostly. I've been on a real Nero Wolfe binge lately and most the episodes are on YouTube, which is pretty sweet. I also downloaded dailymotion and watched a ton of Christmas specials this year.
(Expiry: Unknown)