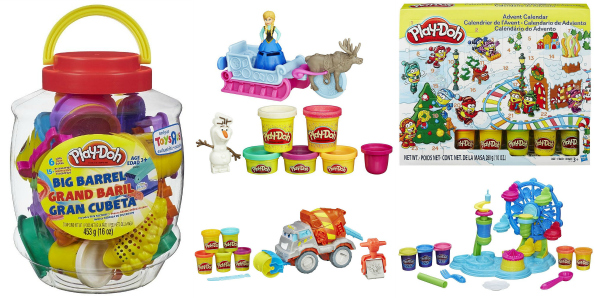 Play-Doh has always been a favourite among children. Even when I was young, Play-Doh was big and I owned several tubs of the moulding clay. Right now, the Toys R Us Outlet on eBay Canada has discounted a bunch of Play-Doh themed toys. You can save up to 32% on Minions, Frozen, Marvel, and more play sets.
This Play-Doh Sled Adventure Featuring Disney's Frozen is on sale from $22.99 down to $16.07. This set lets your children reproduce their favourite characters and more from the Frozen movie. The set includes sled extruder, Anna figure, Sven rolling cutter, Olaf book-mould with arms, extruder rail, 2 cans of Play-Doh Sparkle compound, and 3 cans of Play-Doh Brand Modelling Compound. The same set costs $21.97 @ Walmart right now, so you know you are getting a good deal.
Get busy moulding with the Play-Doh Makin' Mayhem Set Featuring Despicable Me Minions. Originally $22.99, the set is on sale for $18.37. Toss some Play-Doh compound into a mould to create your basic Minion: 1 eye, 2 eyes, or evil. Then there are plenty of accessories to give your minion that custom look. The same set is $23.39 @ All Star Learning.
The best deal is on the Play-Doh Breakfast Cafe at 32% off. This set was $27.99 and is now $18.87. Create waffles, bacon, and more for your pretend breakfast. There are a couple other food themed Play-Doh sets as well. The Play-Doh Cupcake Celebration Playset was $27.99 and is now $19.57. There is also the Play-Doh - Sweet Shoppe Swirl and Scoop Ice Cream Playset on sale from $22.99 down to $18.37.
As Christmas is coming, I must mention the sweet deal on this Play-Doh Advent Calendar. Originally $21.99, this advent calendar is now on sale for $17.57 with free shipping. the same calendar is currently $33.99 in the Amazon Marketplace.
There are still three sets I have not mentioned yet. For Marvel fans, the Play-Doh - Smashdown Hulk Featuring Marvel Can-Heads was $22.99 and is now $16.07. These are more a hybrid between Play-Doh and action figures.
Kids who love vehicles will enjoy receiving this Play-Doh Max the Cement Mixer for Christmas. Originally $27.99, the mixer set is now on sale for $19.57.
Lastly, your kids can add to their current Play-Doh collection with the Play-Doh - Big Barrel. This set comes with FUN FACTORY tool, 2 rails, scissors, roller, knife, 10 cutters, 2 pressers and 4 three-ounce and 2 two-ounce cans of PLAY-DOH modelling compound. Originally $21.99, pay just $15.37 for this set.
As mentioned before, all sets receive free shipping with no minimum.
(Expiry: unknown)