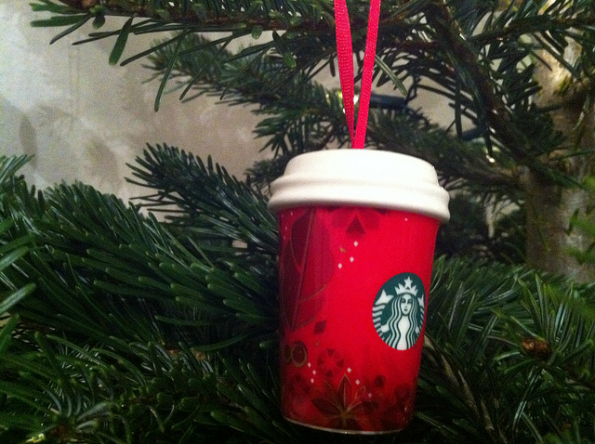 For today only, Starbucks Canada has brought back their $25 off $60+ offer for coffee and tea lovers everywhere. With this offer, you will also receive free shippingon your order. The sale section has some great items up to 30% off right now so combine these promotions to get the best deal possible.
The $25 off $60 will be automatically applied to your cart once it qualifies for the discount. When I was checking out the sale section, imagine my shock to find some of the most gorgeous Swarovski Starbucks ornaments included in the sale. Oh my! I have long wanted to get my paws on this Ceramic Ornament adorned with Swarovski® crystals - Red as the red reminds me of fire (my Chinese element) and I think it is one of the prettiest things ever. Originally $54.95, this Swarovski studded Starbucks Ornament is now on sale for $41.21.
Next, I knew I needed a tumbler. I wanted a big one and I wanted it to be stainless steel as I hate plastic. This Starbucks® Stainless Steel Chiseled Tumbler - White, 16 fl oz fit the bill perfectly as it holds two cups worth and has a straw. As you can imagine, this is designed for cooler tea. Originally $22.95, this tumbler is on sale for $16.07. I literally just bought one of these straw + cup models from Davids Tea and was pretty disappointed that the container was plastic and only the lid and straw were stainless steel.
Lastly, I needed some tea. I am not big on Starbucks tea but they do make a mean chai. I added on the Tazo Organic Chai Filterbag Tea for $5.75 to my cart to top it off. Presto, the discount applied: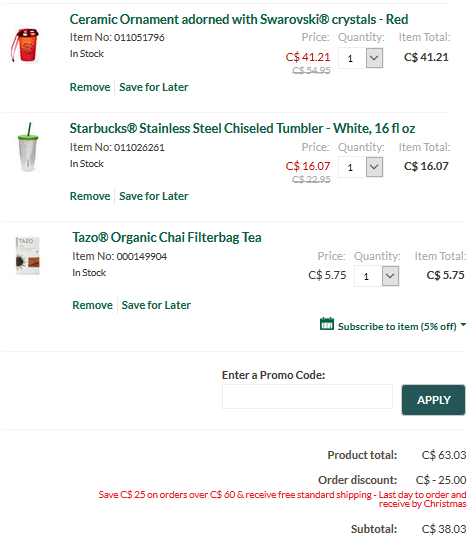 Do you see that subtotal? I get a tumbler, tea, and Swarovski ornament for just $38.03 and I get free shipping as well. That is SUCH a sweet deal given that the original price of the ornament was $17 above what I will pay for all three of these items. It is like getting a good discount on the ornament and the rest of the stuff for free.
You can combine this with any deals you like. I did find that Starbucks' inventory is not quite up to date as it let me add things to my cart and then told me they were out of stock. Just an FYI as it can get frustrating after the first few items.
(Expiry: 10th December 2015)