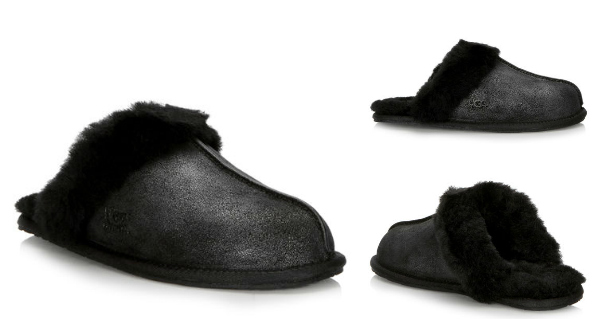 UGG is a super popular brand for winter boots, slippers, and accessories. However, their products do not come cheap. I found these UGG Australia Slippers on sale from $98 down to $79.98. Browns is offering an extra 15% off UGG right now, so your total comes down to $67.98. Shipping is a mere $5 or free on orders of $198.
I could not figure out the exact name of these slippers via UGG Australia's website as they are just not there. However, it is important to note that the cheapest clog style slipper on their website costs $115 CAN so you are guaranteed that these are a great deal at nearly half that price. Even with the $5 shipping charge (charge is more at UGG themselves), these shoes are still a bargain.
I was excited about this deal because they still have so many sizes in stock! Usually I run across these deals when there is like one size left - lol. Enjoy sizes 5, 6, 7, 9, and 11. If you are a size 8, then you may want to size up or down depending in which way you lean. I tend to be between a 7 and an 8 so I would size down to a size 7 UGG as slippers tend to fit generously.
Many other UGG Australia boots are also on sale with an extra 15% off if you are in the market. I wanted to mention these UGG Australia Bailey Button boots. Originally $225, they are on sale for $189.98 - which is certainly not the cheapest sale price I have seen, However, in cart they come down to $161.48 in your cart, which is the cheapest I have seen them anywhere by about $15.
For a more aggressive winter boot, try out the UGG Australia Cecile. This waterproof boot has an aggressive tread, leather and rubber outer, and warm soft shearling inner lining. Originally $248 and on sale for $189.98, these boots also come down to $161.48 at Browns Shoes Canada. The same boot is currently $230 at UGG Australia (Canada).
All of these are great deals for this famous brand. I need slippers so I am - of course - leaning towards them. However, those Cecile boots look glorious: waterproof and warm from a good brand. Maybe they will sneak into my cart.
(Expiry: unknown)