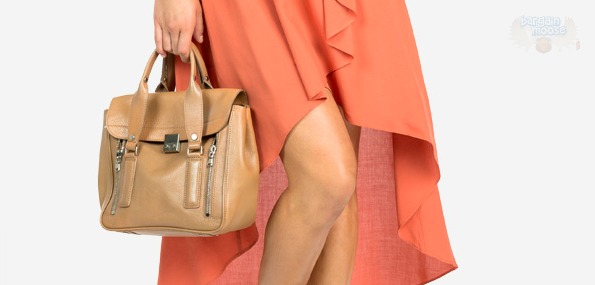 Today and tomorrow, receive 40% off your order of gently pre-loved brand name and designer clothing at Twice (US).
Click here to shop @ Twice Clothing now
Coupon Code: SPARKS40
Discount: 40% off your entire purchase
Expiry: 1st January 2015 11:59 PM PST
I have mentioned Twice Clothing before; they are an incredibly large online boutique in the USA that sells pre-loved clothing, handbags, and accessories. They carry brand name items like Free People, J. Crew, Anthropologie, and Gap. They also have a large selection of designer goods including Burberry, Coach, 3.1 Philip Lim, and many more.
Now, Twice may be an American site but there are three very good reasons Canadians should shop there:
Twice covers the import duties / taxes
Free shipping to Canada on orders of $149+
Only $9.95 shipping on orders under $149
In addition, there is that incredible 40% off coupon code from Twice Clothing that will save you a bundle on some beautiful new-to-you clothing. I have ordered from Twice Clothing before and the coat I bought came in excellent shape - it looked new.
I love Burberry, so here are a few of my selections from their store. This Burberry London Green Silk Skirt would retail around $725 if it was new, but slightly used you can buy it for $90.95. After coupon code, your price comes down to $54.57.
If you are in the market for a different looking purse - perhaps something more bohemian - this Kate Spade Shoulder Bag just might catch your eye. Woven red, white, and black create a remarkably versatile purse that will match your casual wardrobe. Originally $200, it is discounted to $145.95. The coupon code brings the cost down to $87.57.
I think my pick of the entire website would be this chick Helmut Lang NWT Black Mini Skirt that retails for $350 and just costs $27.95 at Twice right now. The coupon code reduces that cost to $16.77. The skirt is a size 12 and I am currently debating whether I need another black skirt because that is seriously cheap and the condition would be mint as it is new with tags.
I also just adore this See by Chloe Purple Solid Silk Tank Dress. Originally $450 and now $70.95, the dress comes down to just $42.57 after coupon code. Looking at the back of the dress, it might also have its tags still attached.
All items sold to Canada are final sale - they do not accept returns from across the border. Moreover, they also do not accept returns on any items purchased with this coupon. All prices above are listed in USD.