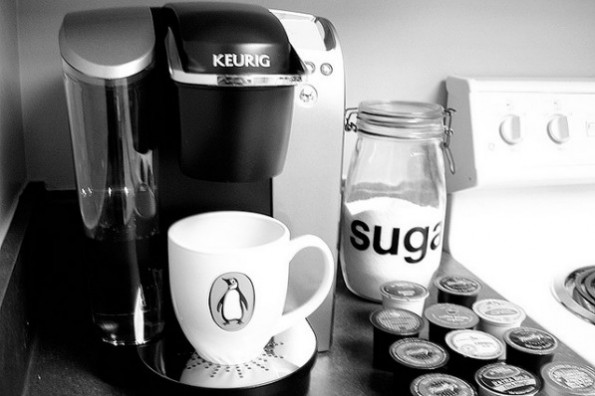 Do you have a love affair going on with flavoured coffee like I do?  Are you constantly disappointed by the selection at your local grocery store?  Here's a way to get a whole world of selection on K-Cups for your Keurig machine: Save $1 on every box of K-Cups at Tweed & Hickory!
Click here to shop K-Cups at Tweed & Hickory now
Coupon Code:  ONE
Discount:  $1 off every box of K-Cups
Expiry:  unknown
I've found what I consider to be the best deal on Keurig K-Cups out there.  Costco's Kirkland Breakfast Blend is regularly $38.99 for 100 cups, coming in at just a little under $0.39 per cup.  What I can't find is a good deal or a good selection of flavoured coffee K-Cups.  At my regular grocery store, there aren't very many interesting flavours to choose from, and the flavoured cups sell for around $0.72 ($12.99 for an 18 pack). Tweed and Hickory saves the day here with an enormous selection of brands and flavours, many of which at a great price even before the coupon discount.  Here are some of the ones I'm most excited about:
Guy Fieri Flavortown Roasts Cups - Banana Foster (24 Pack)($15.49, was $16.49).
That's only $0.65 per cup.
Brooklyn Bean Roastery K-Cups - Cinnamon Subway (24 Pack)($14.99, was $15.99).
That's only $0.63 per cup.
Barnie's Coffee Kitchen Single Cups - Southern Pecan (24 Pack)($14.49, was $15.49).
That's only $0.61 per cup.
Grove Square Portion Packs - Pumpkin Spice Cappuccino (Box of 24)($12.99, was $13.99).
That's only $0.54 per cup.
Cameron's Chocolate Caramel Brownie Single Serve Coffees - Box of 12($6.99, was $7.99).
That's only $0.58 per cup!
Some of the brands that caught my eye that I haven't seen in stores are Emeril's, Wolfgang Puck, Cake Boss, and Hurricane Coffee.
Tweed & Hickory now also accepts PayPal as a method of payment, making shopping for your morning Joe even that more convenient.
Shipping
For a limited time, Tweed & Hickory charges a flat rate of $9.99 for shipping within Canada.  At the moment orders over $150 are shipped FREE!
I don't know how long this code is going on for, so check it out soon.  Be sure to always check the Bargainmoose coupon forum for more Tweed & Hickory codes!
(Photo credit: PJ)