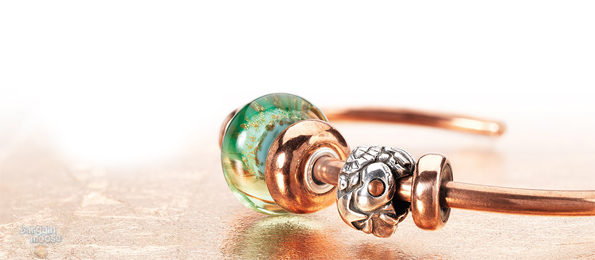 Recently, I discovered a Canadian store which was new to me – Trollbeads.com. This is a bead-on-bracelet store, selling a beautiful range of jewellery. And the reason I am blogging them here is the fact that there are a lot of things happening with the word FREE on their site, which I wanted to let you know about.
The four items in my header are the following:
Free standard shipping
Free gift wrapping
Free personalised gift message
Free engraving
So as you can see, place any order on site and you get all the above for free – sweet. I believe these are ongoing offers, so they're probably not due to end any time soon.
The image I have used above is one of the bracelets in the Troll Beads copper range here. I think they're absolutely gorgeous – I want one! You can create your own personalised jewellery creations by mixing bracelets, beads and locks, so I think these are the perfect idea for a gift. If you add a lot of items to your order though, the price goes up quite quickly so just watch out for that. For example, this Always There Bracelet just consists of one lock, one ruby bead and the sterling silver foxtail bracelet and it comes in at $239. Obviously the more you add, the costlier it gets.
So, while the actual items on site aren't low-budget… if you were looking for something along these lines, then it's nice to get free shipping and all the freebies mentioned above.
Free Gift on $150
If you spend $150 or more on the Troll Beads site until the 11th May 2015, you will also get this free umbrella. You don't need to use a coupon code, the gift is automatic with your order.
Mother's Day Orders: Expedited Shipping?
If you were thinking of Troll Beads as a Mother's Day gift, there's still time left to order and get your shipment in time for the 10th of May – but only if you pay a little bit extra. On the Troll Beads shipping page here, it says that you can choose the expedited shipping service – but that would be an additional $25 surcharge. Sadly that's quite high… but the option is there if any of you need it.
(Expiry: Unknown)