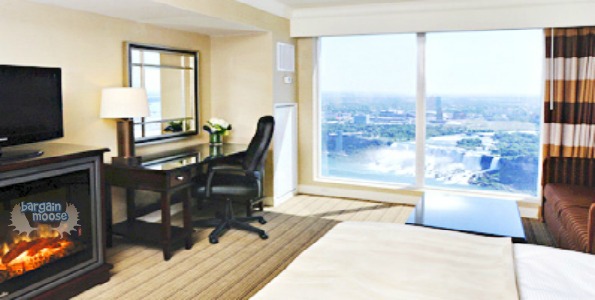 Get a suite at the 4-star Hilton Niagara Falls with a jacuzzi for only $129 including dining credits and winery tours!
I was just looking for something like this, with my anniversary happening in four days and Valentine's Day slowly creeping up. They say Niagara Falls is the spot for lovers and I'd have to agree. We've stayed in a jacuzzi room at this Hilton more than once and the experience was always amazing. Where else can you sit in a jacuzzi by a window and watch the majestic beauty of this natural landscape? And for only $129, why would you not?
This deal has a lot to offer, including a $75 dining credit at the Watermark Fallsview restaurant. I've eaten here and the food is very good, although pricey, but you have to expect that in Niagara Falls. The credit will get you one of your dinners paid for including drinks, so expect to spend about another $50 more depending on drinks. If you decide to leave the hotel, you can instead get a $40 credit at Brasa Brazilian Steakhouse, which sounds amazing. You also get a buffet breakfast for two at the Grand Caffe (worth $40) and a $10 lunch credit for Romano's Macaroni Grill. My favourite part of this deal is the winery tours and tastings worth $40 at Peller Estates and Hillebrand wineries.
You can also choose to upgrade your room. The $129 deal includes one night in a two queen or one king jacuzzi room with city views. For $10 more get a two-bedroom deluxe suite with a jacuzzi, fireplace and city views. If you want fallsview, add another $20. These are all for stays Sunday to Thursday only.
You don't have to decide right now when you will go, but you have to travel by March 22nd. There are some blackout dates, so read the deal carefully. You also have to pay for parking, which starts at $20 a night.
The hotel has an indoor pool, so if you decide not to venture out into the busy day and nightlife of the falls, you can relax, stay in your hotel and still be entertained.
Expiry: 31st January 2013