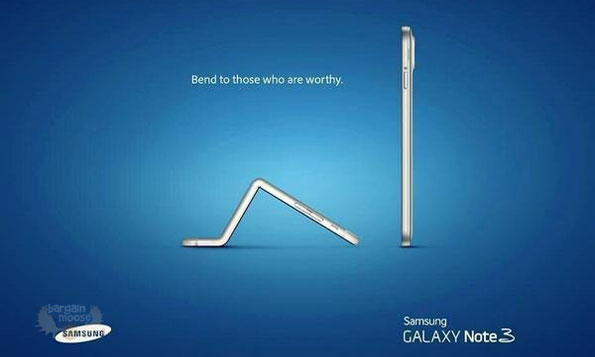 I love iPhones a little too much to agree with the funny image above of the iPhone 6 bending down to the Samsung Galaxy Note 3 but the fake ad is a genius one nonetheless! Speaking of iPhones, tomorrow on March 25th, Best Buy will be having a Friends & Family Sale with the possibility to trade up to an iPhone 6 for as low as $79.99. This offer is only with a Telus plan, but there are other offers clients of Bell, Rogers and Virgin Mobile.
The iPone 6 trade-in offer is the one that most caught my attention because not only I'm with Telus myself but I also have the iPhone 5s. When the iPhone 6 and 6 Plus first came out, I contemplated switching but ultimately opted not to shell out the big bucks to upgrade to the newest toy.
This trade-in offer has captured my attention though because I figure that once the new iPhone comes out in September (nothing is confirmed of course but there is quite the pattern of new iPhones being released every September), then I could potentially have an easier time selling the latest model online as opposed to the one before that. Plus, my hubby has the iPhone 6 and I must say, there is a noticeable difference in the picture quality between the 5s and the 6!
With Best Buy's Friends & Family Sale, anyone with Telus could get the:
iPhone 6 16GB for just $129.99 (reg. $264.99) or $79.99 after trade-in
iPhone 6 Plus 16GB for $239.99 (reg. $374.99) or $189.99 after trade-in
The 64GB and 128GB iPhones are also available but prices aren't listen online, which means that you would have to visit your local store to find out what these are.
The only fine print is that this discount is on "select 2-year new activation or renewal". Now the only thing is that there is no specification as to the kind of phone that you can trade in. It's unclear whether you need to have an iPhone to get an iPhone or if you can bring in a Samsung from another service provider. With regards to a renewal, it's also unclear if your contract needs to be close to the end of its term or not either.
In either case, if you have been wanting the newest iPhone, then this deal is definitely worth checking out in-stores. I don't suggest you wait until the end of the day either as iPhone deals tend to sell out like hot cakes.
If you would prefer to get a Samsung phone, then you could potentially also get one for free, along with up to a $150 gift card. For the Samsung Galaxy S5, you would have to go with Bell or Rogers or for the S4, you have the choice between Koodo, Virgin Mobile or Fido.
Other offers include but are now limited to:
20% off Beats headphones & speaker with activation of Apple products
20% off Case-Mate iPhone 6 & iPhone 6 Plus cases
10% off wearable tech products
(Image Credit: IBTimes.com)
(Expiry: 26th March 2015)