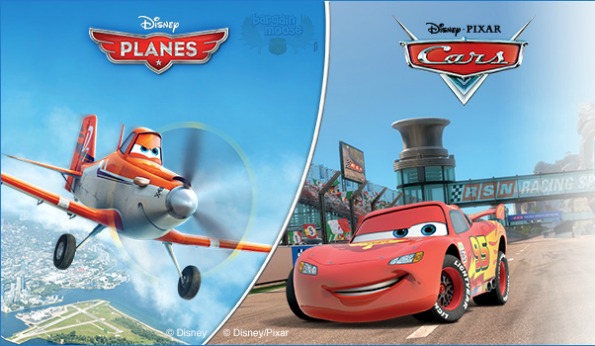 Toys R Us Canada is offering a free children's Cineplex movie voucher to Planes Fire and Rescue when you make a $30 purchase in select toy categories.
You can mix and match items from these three categories:
The voucher will be added to your cart when you have reached the $30 purchase minimum, so do not checkout if you do not see the voucher. The voucher will say:
Disney Planes: Fire & Rescue - Voucher emailed within 4 days - Free Cineplex childrens voucher when you spend $30 or more
The voucher has a maximum retail value of up to $8.99.
Many of the toys in these sections are already on sale and many of them qualify for free shipping when you spend $25 or more. I loaded up my cart with this Disney Doc McStuffins Doctor's Bag Playset that was $24.99 and is now only $18.67. I paired it with thisFisher-Price - Mickey Mouse Clubhouse - Minnie's Pet Bowtique Playset that was $19.99 and is now discounted to $14.97. I really like that the play set includes Pluto and Figaro figurines. Together those two toys total over $30 so the free voucher is added to my cart. I also received free shipping, which took the shipping cost of $6.28 off my cart total.
There are many fun toys available in these three categories. Enjoy some Planes themed toys with this Disney Planes Spiral Air Racethat was $34.99 and is now on sale for $24.98. Pick up a fun plane to hit that $30 minimum like the Disney Planes Aound Action Flyers - El Chupacabrathat was $19.99 and is now $13.98. I also received free shipping on this combo and the voucher was added on no problem.
Disney Planes Fire & Rescue is in theatres July 18th, so there should be no problem with receiving your voucher in time for the movie. Unfortunately, this deal does not appear to be stack-able. I tried adding $60 worth of toys to my account and then increasing the number of vouchers from one to two: no go. The system automatically reduced it back down to one voucher. I suppose you could place multiple orders if you wanted more than one voucher as you are receiving free shipping on orders of $25 or more.
Limited quantities: vouchers available while supplies last. This offer cannot be combined with other offers except sales and free shipping on $25 or more.
(Expiry: unknown)