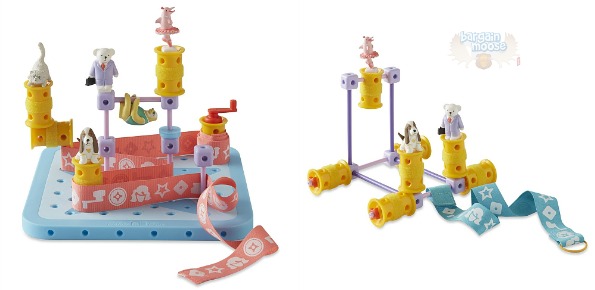 Toys R Us Canada is giving you GoldieBlox and the Parade Float for only $5 (regularly $22.99) when you purchase GoldieBlox and the Spinning Machine for $34.99. Instead of $57.98, you will only spend $39.99 for both sets and receive free shipping.
Click here to purchase GoldieBlox @ Toys R Us Canada
Coupon Code: GoldieBlox5
Discount: Parade Float for $5 with Spinning Machine purchase
Expiry: Unknown
It is a bit hard to price compare a deal like this. Essentially, you need to look at the total price for both sets and see whose is cheaper. Here is a price compilation from two other websites that carry this title.
$57.90 @ Chapters Indigo
GoldieBlox and the Parade Float - $22.95
GoldieBlox and the Spinning Machine - $34.95
$45.06 @ Amazon Canada
GoldieBlox and the Parade Float - $14.99
GoldieBlox and the Spinning Machine - $30.07
Given both of these price comparisons, I figured Toys R Us's deal was worth blogging as it is the cheapest and includes free shipping as well.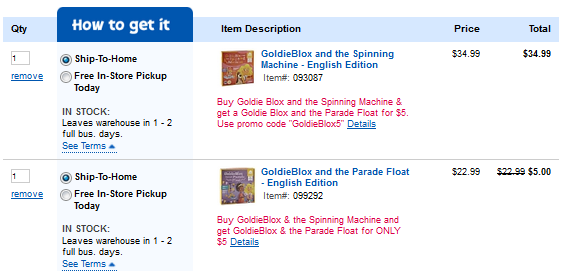 Honestly, I had no clue what these were when I first saw this deal. I had to read a bit to find out that GoldieBlox is a series of interactive books and construction toys designed to fuel girls' interest in engineering. I remember reading something about how innovative these toys were as most toys like this are marketed towards boys. As your child reads along in the book, she gets to build what Goldie builds. Your child will encounter problems along side Goldie. They will solve these problems together by building simple machines. I rate this about a 5/5 for awesome toys geared towards girls.
This toy is designed for younger girls. Several parents have found it perfect for a four-year old:
My four year old loves stories and lego/blocks. Having a fun story to follow and build with has been perfect for her. The more she does it, the easier it becomes for her to follow the pictures and do it herself. She likes that at the end of the story there is more "machines" to build.

You can read other reviews from parents. There are some complains about kids getting bored... but that seems to be with older children. Also, not all kids will like all toys. Some parents do not think the set holds together well enough, but it is designed to be taken apart and used to build machines. From my understanding, the sets can be used together as well.
For this and future Toys R Us coupon codes,visit our forum.