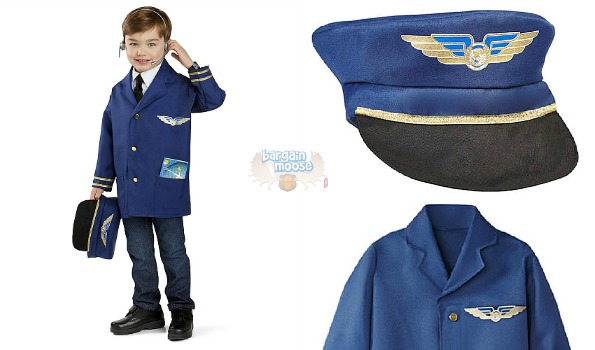 Think outside the box with your kid's costumes. Dress up outfits are essentially costumes and Toys R Us has a hot deal on a jet pilot costume. I know many little boys (and girls!) who want to jet pilots, so this costume is fantastic. Regularly $31.99, it is on clearance for $14.98, but right now Toys R Us has an extra 30% off clearance in your cart, bringing this costume down to just $10.49.
With the coat, pilot's cap and a headset, your little one can be the master of any jet flying the skies. I like this costume for many reasons, but one of them is that it also looks warm. The jacket looks to be on the thicker side and you can layer underneath it if the day turns out to be miserable as the last few have been in Ontario.
Another great thing about this costume is that your child will want to play with it over and over so it really gets its use. My youngest absolutely loves playing dress-up and if he could be a jet fighter, that would take him over the moon. Even better, this is an easy costume for him to put on and off. I'm sure the headset alone would be a hit, especially if mom and dad have their own headset. Kids love to mimic their parents. Just be careful what you say ;)
There are 12 reviews and it gets a 4.5 star rating, which is fantastic. The reviews say the kids loved dressing up in it and the photos you get are adorable. One kid even wore it to the airport, which is a fantastic idea if you are going on a trip. This is an overall well-balanced review:
The pilot outfit is cute and the kids love to dress up and pretend that they are pilots. However, the headphones that come with it only lasted 5 minutes. They are very cheaply made. The kids don't like the dickie part of the costume they think its a broken shirt. I wish they would have incorporated the shirt into the jacket instead.
I'm going to say for $10, you can't go wrong, even if the accessories aren't high-quality.
As always, shipping is free from Toys R Us on a $49 spend, so you'll want to look around and see what else you might need for Halloween so you avoid those charges.
(Expiry: Unknown)