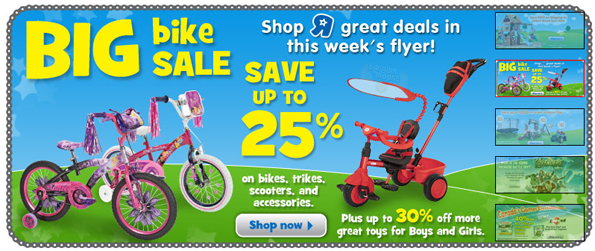 As the summer weather creeps closer and closer, we're all finding a bit more time to spend outdoors. And if you've got kids, bikes are always pretty high on the list of ways to keep the kids entertained while they're out there. This week at Toys R Us Canada, they're having a BIG bike sale, offering up to 25% off bikes, trikes and scooters.
The kids helmets are also on offer, if you're needing one of those. How cute is this pink Raskullz Giddi Yup Helmet - it's $24.97, down from $29.99.
Over the last few weeks, I've seen a few people pushing round their toddlers in this type of thing - the Little Tikes 3-in-1 Trike which is down from $99.99 to $79.97. I think they're a pretty great idea. My little girl is almost two years old, and it's sometimes pretty hard to control her when we're out and about. We've got a few options... slings, pushchairs, reins... but she's never happy! I get jealous when I see kids being pushed around contentedly, in a trike like that one by Little Tikes.
But when she gets a little older, I plan on getting something like this Disney Princess Bike, it's $59.97 down from $79.99 just now. I never had anything like that and was always pretty jealous of girls who had one. I have a feeling that y daughter will be getting one of those bikes in the near future!
Remember that if you're ordering online from Toys R Us Canada, you have to spend $100 to get free shipping.
(Ends 27th April 2012)