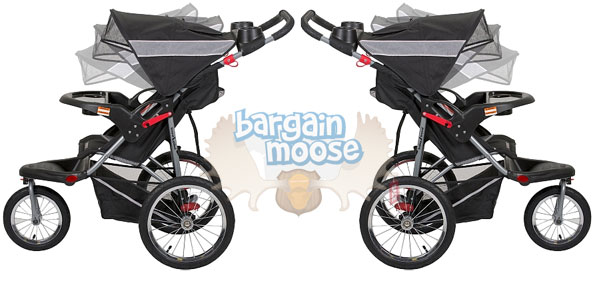 Summer is upon us and if you have been wanting to go on walks with your little one, then here's a fabulous deal on a stroller: right now at Toys R Us, you can save $80 on the Baby Trend Expedition Jogger. Originally priced at $219.99, it's now down to just $139.97. Plus, you can use the Toys R Us coupon codeCineplexFeb to reduce it by an additional $10, down to $129.97.
I have a Graco Modes Click Connect stroller (by the way, it's currently on sale for $349.97 instead of its usual price of $429.99) and while it's awesome for running errands, it's not the best for sportier purposes.
The Baby Trend Expedition Jogger, on the other hand, isn't designed like your usual stroller. It has two large wheels in the back and one smaller wheel at the front for better manoeuvrability. With this stroller, you can easily run errands or even go for a jog with the baby.
The cool part about it is that it doesn't compromise on other essential features. The baby's set is padded, reclinable and can be adjusted into a couple of different positions. There is also an adjustable shade canopy and the safety harness is a five-point one.
Plus, it has a large basket and two cup holders! Personally for me, those two features are must-haves as I always have tons of bags to store and I don't go anywhere without first grabbing a Tim's coffee.
The reviews for this stroller are also amazing. Out of 11 reviews, it has 4.6 reviews with comments like this one:
I use this stroller everyday. Rain or shine. I use it on paved pathways, easy hiking trails, I take it to the dog park, snow drifts, gravel roads, pack it up and take it to the mall….. everything.
Here's another review:
This stroller is wonderful. The bike wheels are great for any terrain from gravel to the mall, the size is good as it's not too large to take into stores, it rides very smooth and easy to manoeuvre, the under basket is large so it holds pretty much anything, the handle bar is a nice height so you don't feel like you are bending over to push it (but it does not adjust) and it folds up to a decent size to fit in your trunk!
Shipping is $13.18 (more or less depending on your location) and once you add this stroller to your cart, a $10 shipping discount will be applied, reducing the cost to just $3.18. Personally, that's not a cost I would even mind paying for the convenience of having it delivered straight to my door but you could choose to pick it up in-stores instead as well if the option is available.
(Expiry: 2nd July 2015)