There is a bunch of buy one get one free offers on at Toys R Us for this weekend. This is a great time to stock up on toys for your children - whether for birthdays, for good behaviour rewards, or for Christmas (I know... so far away).
Here are some of the items you can buy one of and get another free:
BOGO FREE on ALL $21.99 and Under Play-Doh
BOGO FREE on ALL $14.99 and up My Little Pony
BOGO FREE on ALL Littlest Pet Shop Dolls and Playsets
I started with Play-Doh, as it is a favourite childhood toy of mine. I just adore the Play-Doh Stamp and Roll Set Featuring Despicable Me Minions for $9.99. There is a unicycle roller with stamps built in and a Pogo stick with different stamps as well. It is one-eyed minion versus two-eyed minion for the win! I would pair this set with the Play-Doh Marvel Can-Heads Featuring Spider-Man and Green Goblin that is also $9.99. Together, one set becomes free.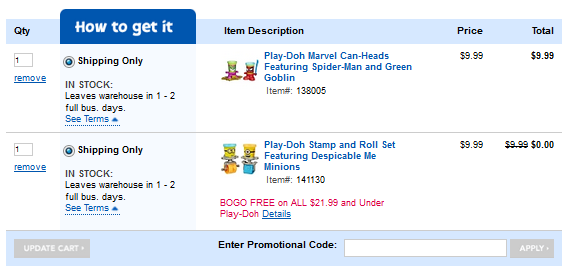 You can see the discount in my cart above. Now, Toys R Us offers free shipping on orders of $25 or more so you will want to add more than $10 worth of stuff to your cart.
When I was a child, I owned one My Little Pony. I think my pony would be a classic now as My Little Pony has come back as a hit TV show and toy franchise among kids, teens, and adults. I was at a comic convention where I heard Q from Star Trek speak. Half the questions directed towards him were about the character he voices on My Little Pony! You could purchase the My Little Pony - Equestria Girls Collection - Twilight Sparkle Dollfor $17.99 and get the My Little Pony - Equestria Girls Collection - Rarity Doll for free. If you split the cost between the dolls, which means each doll will only cost $8.99.
Lastly, all Littlest Pet Shop Dolls and Playsets qualify for the buy one get one free offer. I picked out the Littlest Pet Shop - Backstage Beauties Pet Pair for $14.99 to pair up with the Littlest Pet Shop - On With the Show Pet Pair, which is also only $14.99. Your second one becomes free in your cart.
You can add multiples of these deals as well. I tried out four Littlest Pet Shop items and two became free. You can do this with the My Little Pony and Play-Doh deals as well.
(Expiry: Unknown)