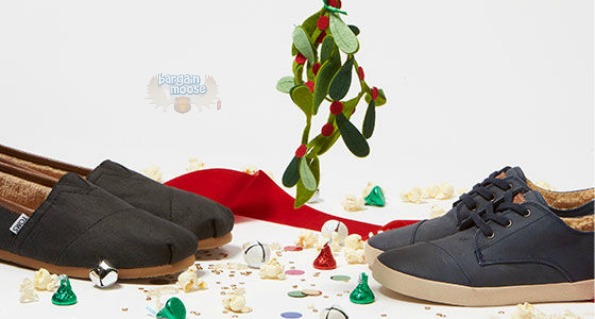 Toms Canada has a series of coupon codes valid for up to 30% off your order right now. Get 20% off $100, 25% off $150, and 30% off orders of $200 or more with coupon code at Toms Canada. Receive free shipping on all orders through the end of the year.
Click here to shop @ Toms Canada now
Coupon Code: GIVEMORE
Discount: 20% off $100, 25% off $150, 30% off $200
Expiry: 13th December 2014
While these coupons require a large minimum, they are also among the largest coupons we have ever seen from Toms. I have to go back an entire year to last December to find a coupon code above 15% off. Last December, they did have a 20% off coupon code we blogged about then. However, the opportunity to get even 25% or 30% off is unheard of from Toms.
Pick up a few pairs of your favourite footwear. The Black Suede Women's Desert Wedges are on the bestseller list at $105. After coupon code, these wedges come down to just $84 with the base discount. Sizes 6.5 and 7 are out of stock right now.
Admittedly, I do not follow Toms much because their shoes are just not my style. Thus, I was surprised to find out that they have branched into eyewear lately with a collection of stylish sunglasses. These Gigi Navy Polka Dot Glasses are incredibly adorable! I do not recall seeing adult sunglasses with polka dot frames before and I love anything with dots. Originally $118, the glasses come down to $94.40 after the coupon code base discount.
The more you spend, the more you save. Purchase the shoes and the glasses together to receive 30% off instead of 20% off your cart. I am not sure how easy it is to give shoes unless you are knowledgeable on your family's shoe sizes and foot shapes. I could buy for my Dad because I have been part of his shoe buying for years. However, my mother is far more difficult.
Sunglasses make an excellent gift in my opinion. Just observe what style your friends or family likes to wear, and get them something similar. I am in desperate need of new glasses as my lenses are scratched.
Enter the coupon code on the payment page when checking out. You will find a box for it on the right hand part of the page, just under where your items are listed. You can enter your coupon code to see your discount before you enter your payment information. For this and future Toms coupon codes, visit our forum.