(Bump - this is available today!)
Timmies, Timmies, we all love timmies!
On the 21st of May 2009, between midday and 5pm, you can get a small Tim Horton's Iced Coffee – totally for free!! It says it is at participating stores, so I don't know if some locations will opt out. Here's what they say about the coffee itself: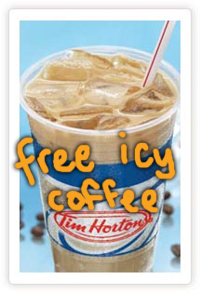 It's a creamy, sweet blend of Tim Hortons coffee on ice. It's a refreshing way to enjoy your Tim Hortons coffee!
There is a downside – I've been reading around other forums, and the general consensus is that the Timmies iced coffee tastes like crap. I'm sure it doesn't taste like actual crap, but having never tasted crap or Tim Horton's iced coffee, I wouldn't count myself as an authority on the subject.
Let me know what you think of the taste!!
This particular promo excludes BC and MB... BUT for those provinces, you get a free iced latte instead.