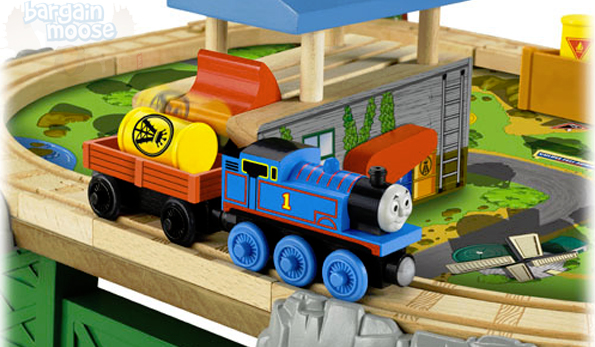 If you know some little ones who are fans of Thomas the Tank and his assorted train-friends, check out the deal on these wooden Thomas bits and pieces online at Sears Canada. They're having a 50% sale on this range of toys, you can see all the various items here:
Also, with the Sears coupon code941612770 you can save an extra $10 off $50 on any order, right through to the end of July 2014. So, if you're buying a few of the lower priced Thomas items, you could easily make your order up to $50 and save the extra $10 discount.
Here are some examples of the individual Thomas items that are on offer at Sears online right now:
Price Compare?
I priced compared the last item there, the Mountaintop Supply Run Set to see how good a deal it was. You can buy that set for $170 @ MastermindToys, $174 @ Amazon, $150 @ ToySense, so the $75 price on Sears is really awesome. I didn't price compare every single item above, so feel free to do your own due diligence on that if you're buying a few items. I only price compared the most expensive set to see how the deal shaped up.
Stocking Up For Christmas?
You'll hate to hear me talking about it in July, but think ahead to Christmas! The best way not to spend an absolute fortune on Christmas gifts for the kids, is to buy the likes of this Thomas offer from Sears. When you spot a hot offer on an item that the little ones would like, buy it now and then pop it away in the closet until December. You will have saved money, you won't be worrying about shopping in the crowded malls in silly season, and your kid will get a fantastic pressie.
Canadian Shipping
As usual with Sears.ca, you'd have to spend $100 or more to get free shipping to your home. If you're not wanting to spend $100 solely on Thomas items, consider adding some other things to your shopping cart to make it up to that minimum value for free shipping. If you are only ordering a few items though, shipping depends on what you are buying. Regular shipping starts at $7.95, with shipping to your local Sears store starting at $3.95. If you're spending less than $100, you might want to factor those costs in to your order.
(Expires 24th July 2014)