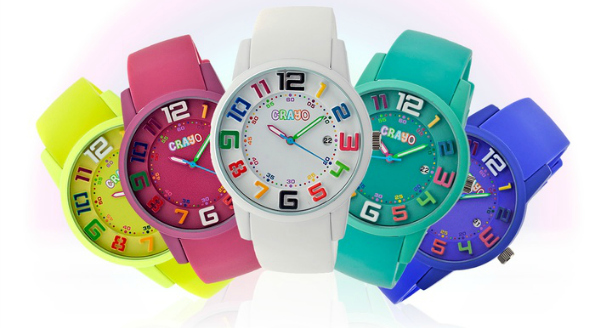 Give the gift of time this holiday season with a brand new watch from This Counts Canada. Get up to 88% off men's watches and women's watches with tax included and receive free shipping. It is time to go shopping for a new time piece.
Simplify Watches gives a modern take on the most simplistic watch style you can imagine. They are gorgeous and timeless timepieces that will look good for generations - no matter how the fashion trends bloom and fade. The 2600 Watch comes in a variety of colour combos but they are all used to simply enhance this modern watch. Originally $455, this watch is now $55 all inclusive.
If your man likes a flashy watch, then you will certainly want something different for him. I recommend the Mos Casablanca Mens Watch currently on sale from $455 down to $60 all inclusive. This watch is made with a rubber-Coated Metal Case and contoured silicone strap. It has both luminous hands and luminous markers. Not only does it have the regular watch face, it also has an engraved pattern dial and three sub-dials. This is about as busy as a watch gets!
For women who know their time, The 500 Watch is a cool accessory that will make people raise their eyebrows and dare to ask: "how can you tell time with that thing"? You can simply smile and nod towards your modern-style watch. Originally $260, this watch is now on sale for $48.
I like to have fun with my accessories and most young adults that I know think the same way. If you want to buy your teenager a watch for Christmas, then consider picking up the Crayo Festival Watch. This rubber coated watch comes in any colour you could well wish for (almost) and looks awesome. As it is rubber coated, expect this watch to be a durable addition to your accessory collection. Originally $175.50, it is now on sale for $43. All prices are inclusive of tax and receive free shipping so the price you see is the price you get.
There is a watch on sale for nearly every taste. While people are now using their smartphones more and more as a 'watch', there are some times when you just need the actual thing. In the class room, out for dinner, and at the movies are great times to be carrying and checking your own watch.
(Expiry: Unknown)